Let's be honest: Jell-O, along with gelatin of all kinds, is kind of a boring dessert. It's nobody's favorite, but it's not terrible. Simply put, it's consistently the best thing on hospital meal trays.
Well, all that is about to change. Starburst's new product is the most exciting thing to happen to gelatin since Jim Halpert famously used it to encase Dwight Schrute's stapler.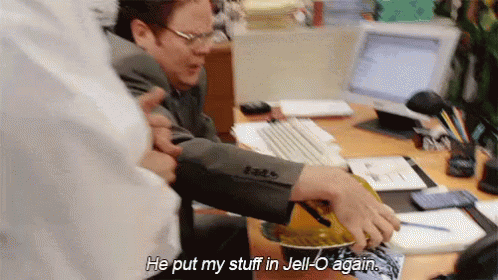 Starburst Gelatin—which will be available in Blue Raspberry, Cherry, All Pink Strawberry, and Lemon flavors—was spotted by multiple Instagrammers at the Sweets & Snacks Expo in Chicago.
https://www.instagram.com/p/ByEVdHQns8G/
New Starburst Gelatin! Coming soon! Which flavor are you most excited to try?
A post shared bySnack Betch (@snackbetch) on
https://www.instagram.com/p/ByEGw1pFrxS/
?Coming Soon!?NEW Starburst Gelatin! Which flavor would be your first choice? Lemon, All Pink Strawberry, Cherry or Blue Raspberry? . Spotted at the Sweets & Snacks Expo! . . . #starburst #gelatin #jello #candytopia #candyland #treatyoself #lemon #allpink #strawberry #cherry #blueraspberry #newfood #foodiefind #welovefood #instayummy #threesnackateers #chewy #foodforthought #tastessogood #flavorful #sweettooth #sugarrush #foodaholic #funforkids #colorfulfood #snackattack @jelsertco @starburst
A post shared byThreeSnackateers.com (@threesnackateers) on
It appears the classic Orange flavor won't be among the flavors hitting shelves soon. Blue Raspberry, meanwhile, is currently only available in Starburst Duo form.
Unfortunately, we don't know much about the new and very mysterious Starburst Gelatin, aside from the facts that it exists, will be available in the four aforementioned flavors, and will come in 3.94-oz. packages.
We reached out to Mars, Incorporated, Starburst's parent company, for more information—we'll keep you updated.  
Source: Read Full Article