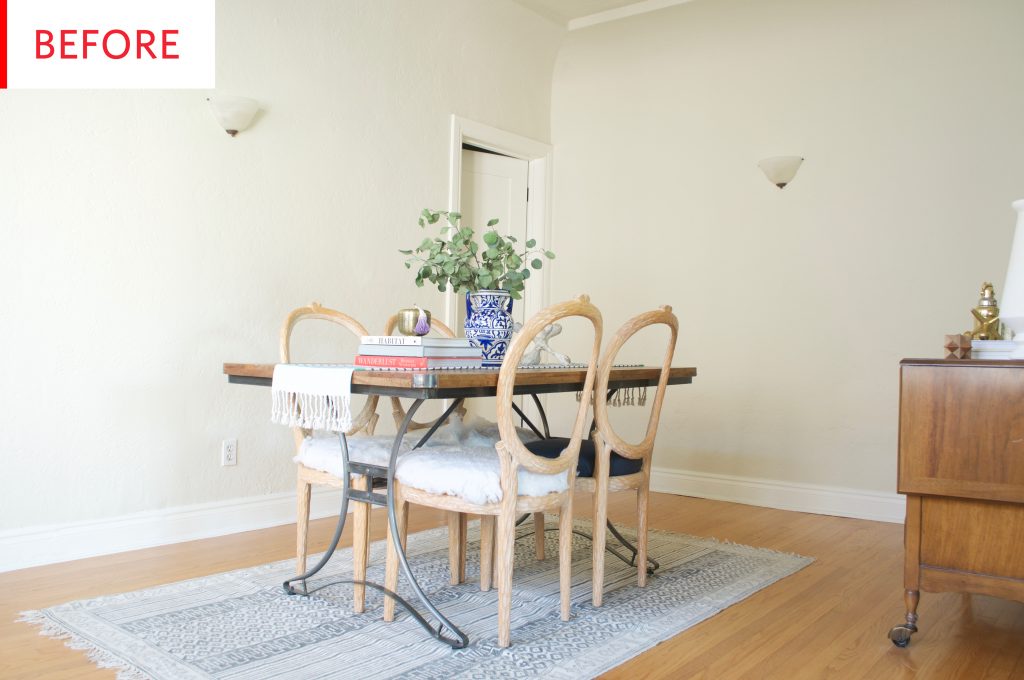 If you're following along, you may have caught us drooling over Arlyn Hernandez's makeovers. Arlyn used to work at Apartment Therapy and is now Emily Henderson's editorial director and the proud occupant of not one but two beautifully designed rooms in a 100-year-old Los Angeles Mediterranean-style apartment building.
She and her husband Charles lived in the space for a year before deciding it was time to change things up and say "peace out" to most of the furniture they'd bought for their previous contemporary South Florida condo.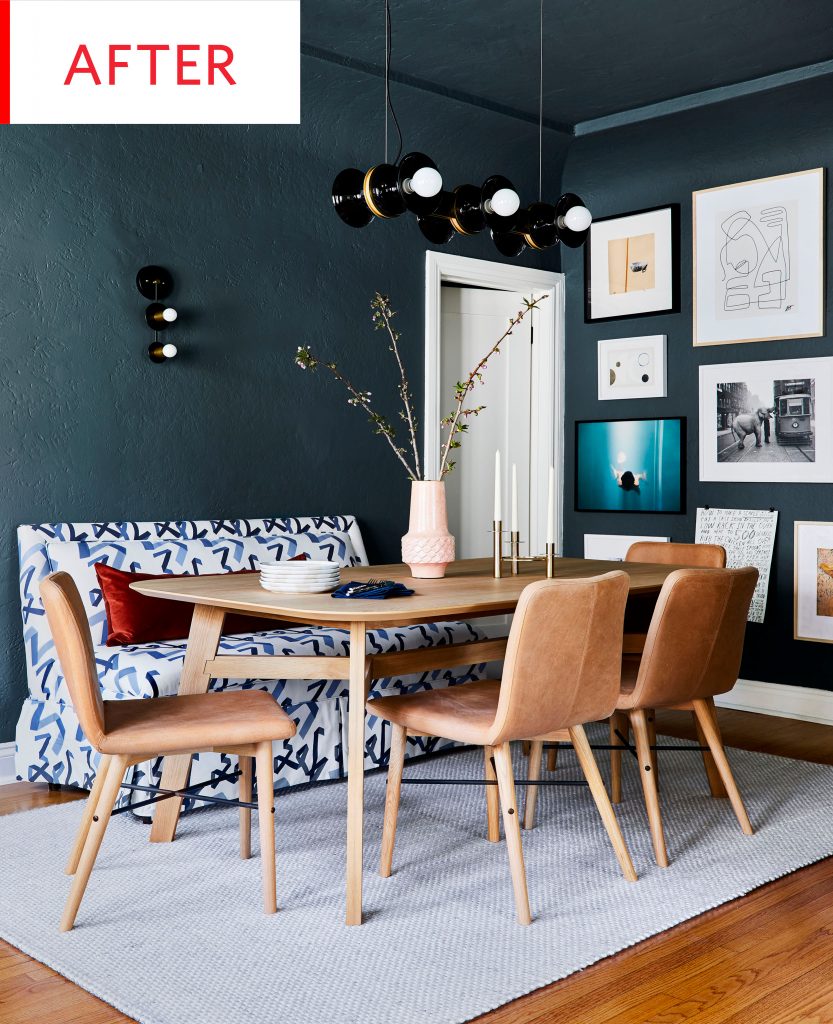 Arlyn was happy with the dining room "before," but she saw the potential for so much more (read the full blog post on Emily Henderson's site). Figuring out how to position the table to be both directly under the chandelier and not blocking the kitchen entrance was her major design hurdle. The chandelier had been installed in the center of the room, making this feat near-impossible.
After creating a bunch of mood boards, she found a settee that would inject a big dose of funk and set the room's tone. She steered toward "dark and moody" by picking Farrow & Ball's Inchyra Blue to cover the walls and ceiling. The table is from Article, as are the chairs — both very modern pieces, but soft enough be enveloped in the overall design.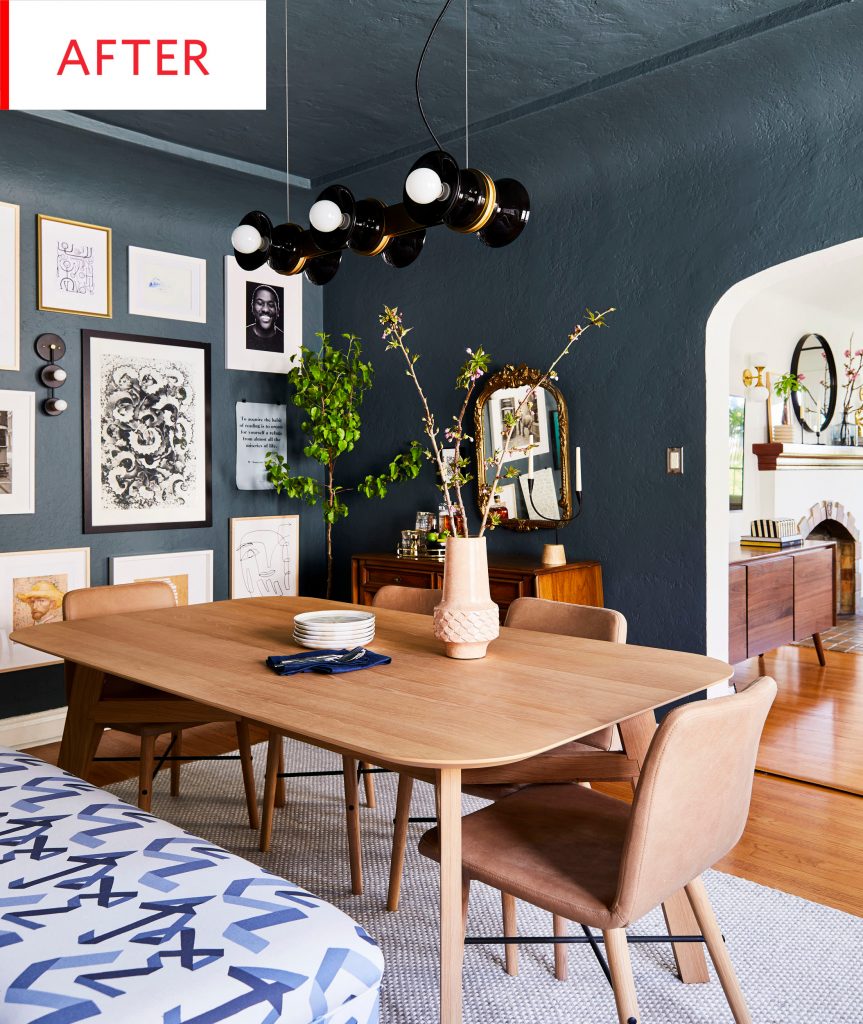 I'm always interested in knowing how people are able to accomplish such feats of design strength in their rentals, so I asked Arlyn how she was able to make so many changes in a place she didn't own. She said she simply asked permission from her landlord and was allowed to paint, as long as she had the walls professionally painted back to their original color upon moving out. As for the lighting, she kept the original fixtures and will reinstall them when she leaves.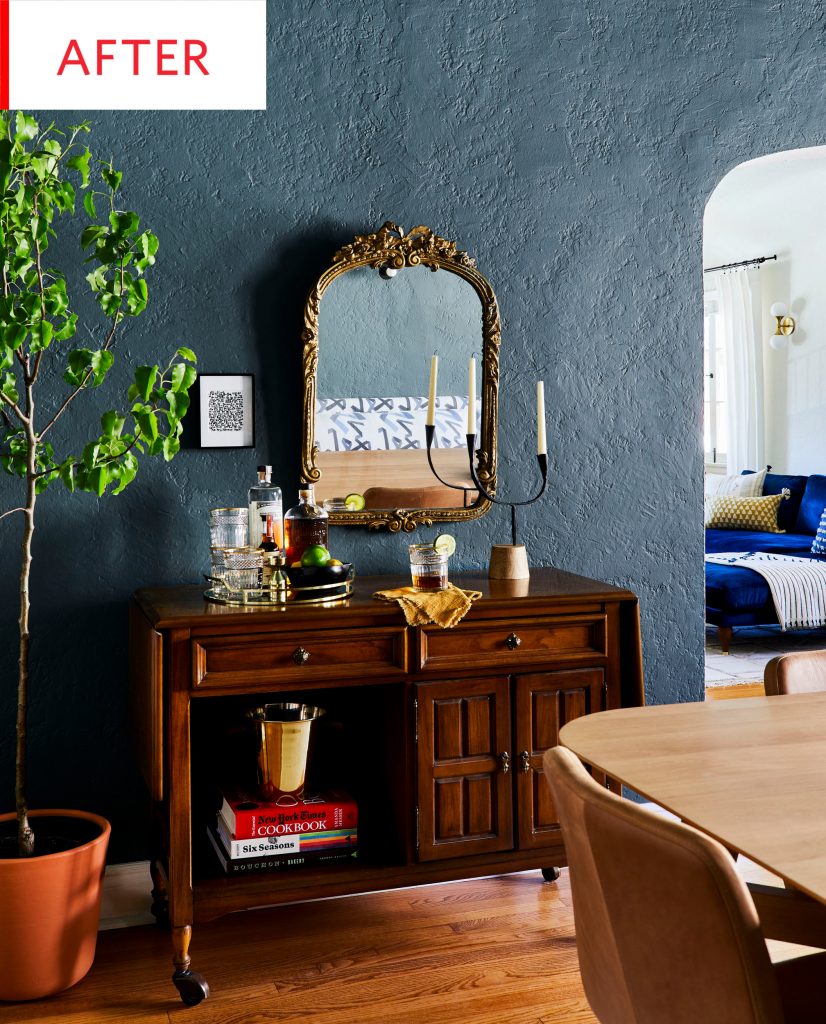 This moody moment proves that if you really love a piece, you can make it work in your design. The woodgrain in Arlyn's $50 vintage Thomasville server comes alive against the dark walls and realizes its full potential styled out for happy hour.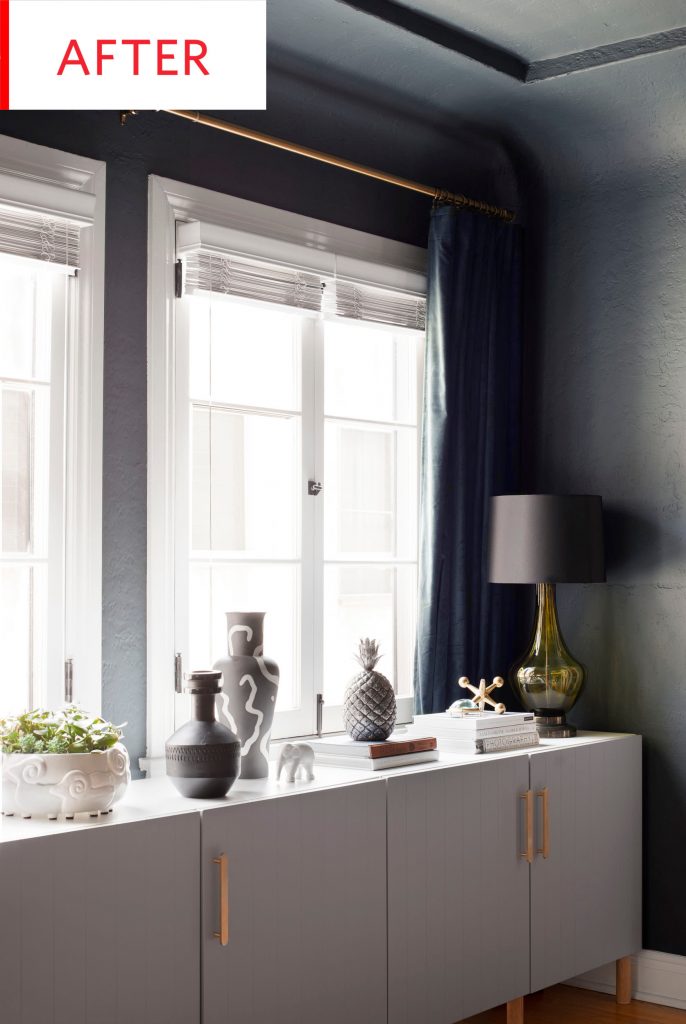 Recognize this? Her IKEA Besta unit got the boot from the living room "before" and ended up being the perfect fit for the space beneath the dining room windows. Before moving it over, it got new doors from Semihandmade, hardware from Park Studio LA, and a new set of legs from IKEA.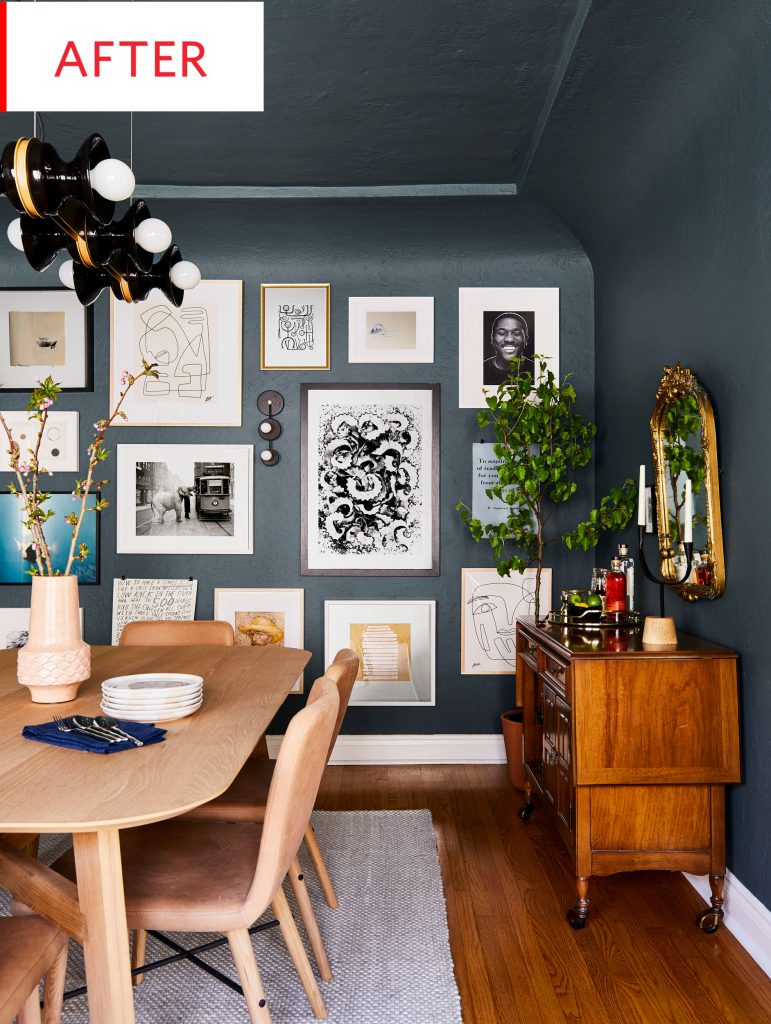 And let's take a moment to appreciate that perfect gallery wall, shall we?
Moving on: Did she or didn't she accomplish the task of keeping the table out of the path to the kitchen all while having the chandelier hang perfectly above? She did. This fantastic Schoolhouse light has two canopies that allowed her to use the existing center junction box while shifting the "center" to the right and allowing the table to be out of the path to the kitchen.
Arlyn, you're making us all jealous. Kudos, again, on designing a beautiful, livable, inspiring space.
This post originally ran on Apartment Therapy. See it there: Before and After: A Smart Design Solution for a 1920s Dining Room
Source: Read Full Article