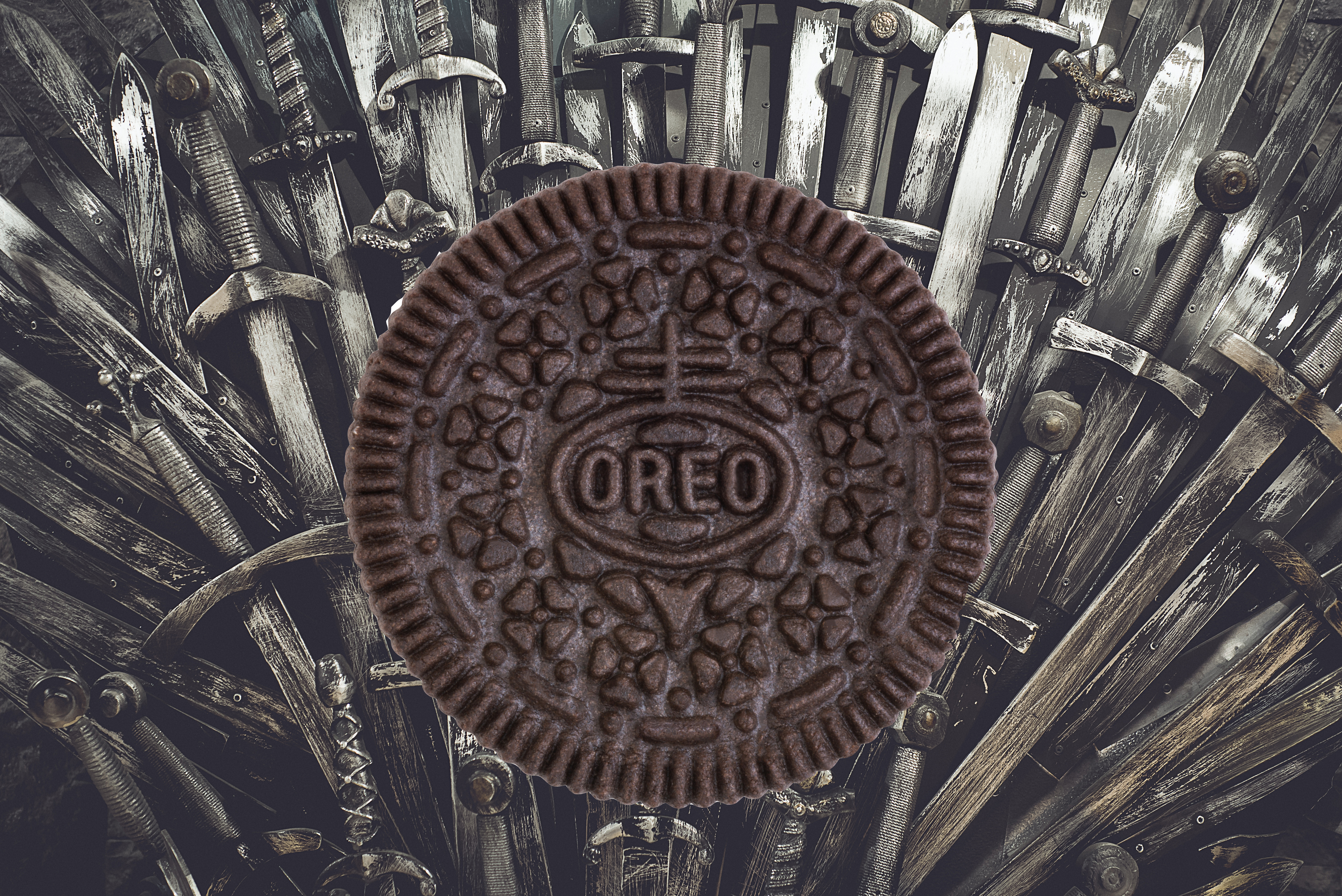 Forget winter, what's really coming is a new Oreo. No, we're not talking about the holiday-themed Easter Egg oval-shaped ones, nor the recent king-size cookies and creme Oreo candy bars. These are something darker, cooler, maybe a bit more menacing, and definitely way more mysterious: Game of Thrones Oreos.
https://www.instagram.com/p/BuO1a_il21v/https://www.instagram.com/p/BuO1a_il21v/
Yes, coming this April is not only the eighth and final season of Game of Thrones, but also a special crossover-branded Oreo cookie. Pretty much everything we know about the matter comes from Instagram posts by Candyhunting and TheJunkFoodAisle showing the black packaging emblazoned with character names, a silver embossed-looking logo, an Oreo sitting on the Iron Throne, and a hashtag: #Forthethrone. Oreo themselves released an Instagram video that tells us…literally nothing.
https://www.instagram.com/p/BuPOPqBh7XX/https://www.instagram.com/p/BuPOPqBh7XX/
Candyhunting offered a few more details, including that the cookies will release sometime before the season begins on April 14th, that they'll be widely available, and that they aren't just regular Oreos repackaged. Oreo's corporate folks are keeping mum, willing to admit only that the cookies are, in fact, coming. But they do promise "Much more to come!" What that looks like is anybody's guess, but they also sent over a graphic that matched the Instagrammed cookies, saying "Yes, it's true." And then in the center, "A new alliance has been formed," a date of April 2019, and "Oreo" in some Game of Thrones lettering.
We're always stoked for a good crossover promotion, but have to admit that Oreo seems like an odd choice for Game of Thrones, which makes us think that they must have come up with something pretty cool to make it worth wandering off-brand so much. But also, we can't help but wonder what exactly the Westeros version of the classic cookie might look and taste like — leave your best guess in the comments.
Source: Read Full Article