Total:

3 hr 50 min

(includes rising and cooling time)

Active:

35 min
Yield:

2 pizzas (6 to 12 servings)
Ingredients
Directions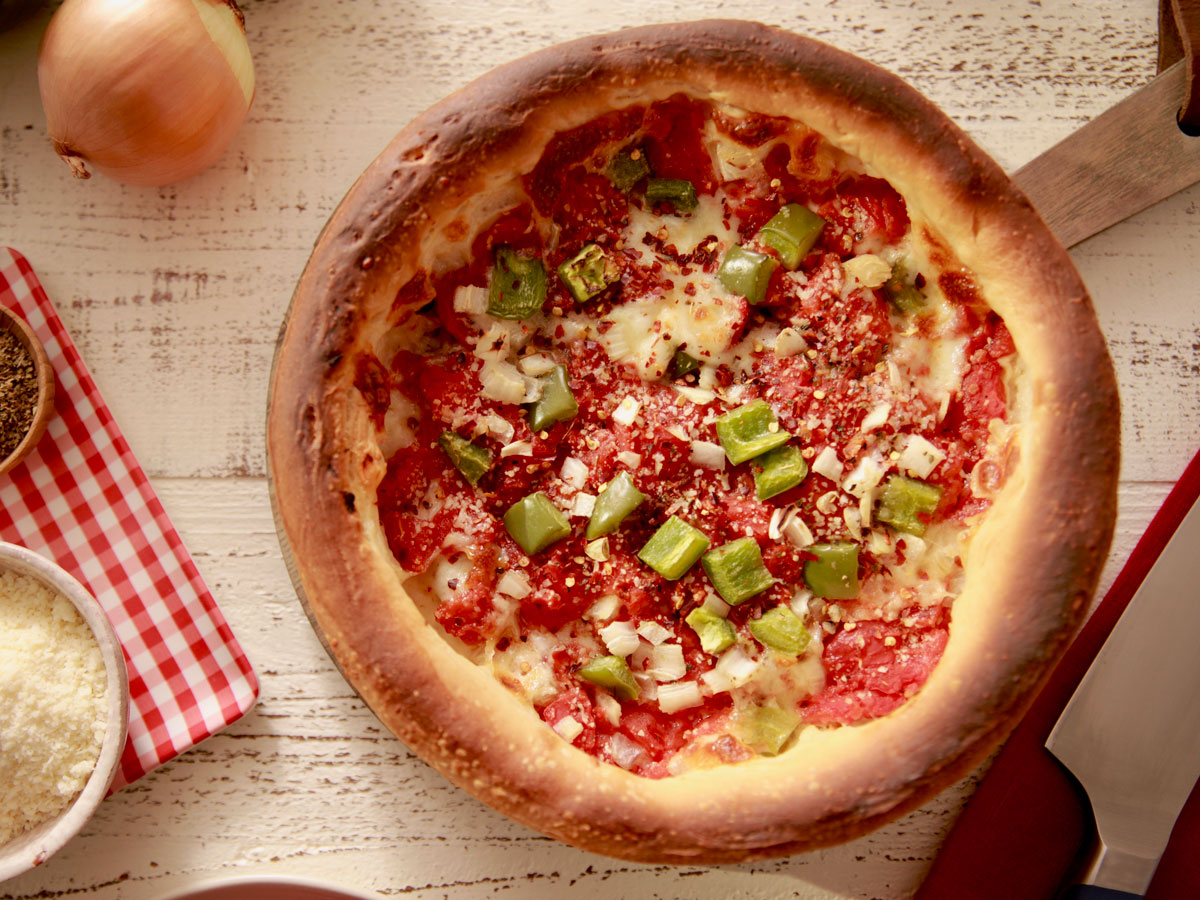 In a stand mixer fitted with a dough hook, combine the flour, sugar, yeast and 1 1/2 teaspoons salt. Add the water and oil and mix to combine (you may have to get in there with a spatula to help everything incorporate). Turn the mixer to medium-high and knead the dough until it is smooth and pulls away from the sides of the bowl without sticking, adding more flour 1 tablespoon at a time if needed, 7 to 10 minutes.
Coat a large bowl with oil and transfer the dough to the bowl. Toss a few times to coat the dough. Cover and let sit at room temperature until it has doubled in size, 1 to 2 hours.
Once the dough is ready, preheat the oven to 500 degrees F.
Liberally coat two 10-inch cake pans with the softened butter. Divide the dough into two balls and place each one in a pan. Cover loosely and let sit for about 20 minutes while the oven preheats and you prepare the other toppings.
Place the tomatoes in a strainer and sprinkle on a couple good pinches of salt; let drain for 10 minutes. Flatten out the dough all over the bottoms of the pans and about 1 1/2 inches up the sides. Top with cheese slices, overlapping them. Tear the sausage into golf ball-size pieces, then press on top of the cheese and flatten, leaving little holes for the cheese to poke through. Top with the tomatoes, peppers and onions. Sprinkle over the Pecorino-Romano and oregano.
Bake until the crust is a deep golden brown, the cheese on top is turning golden and the sauce has begun to bubble, 30 to 40 minutes. Let cool slightly before slicing. Sprinkle with crushed red pepper, if desired.
Source: Read Full Article