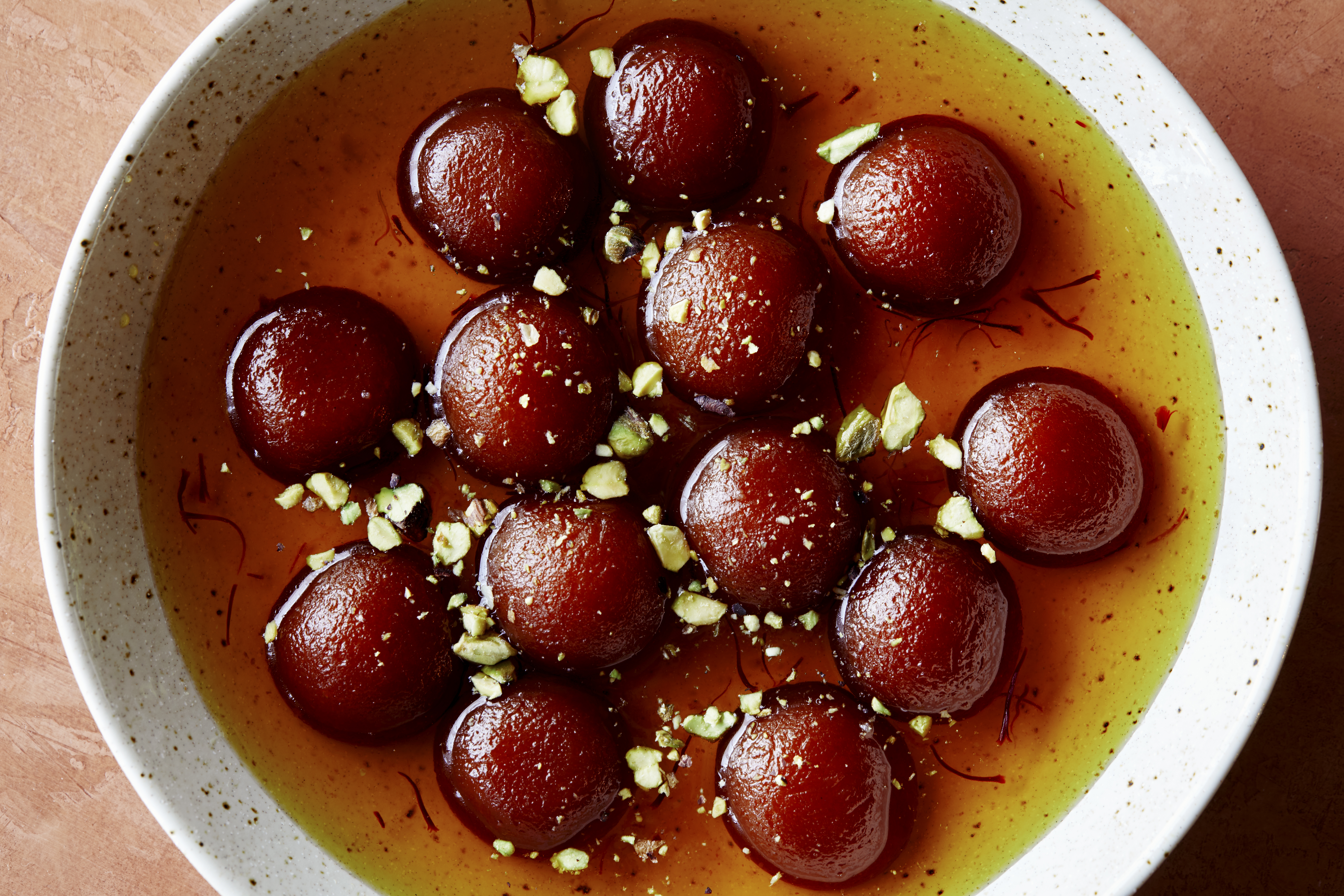 Photo By: Teri Lyn Fisher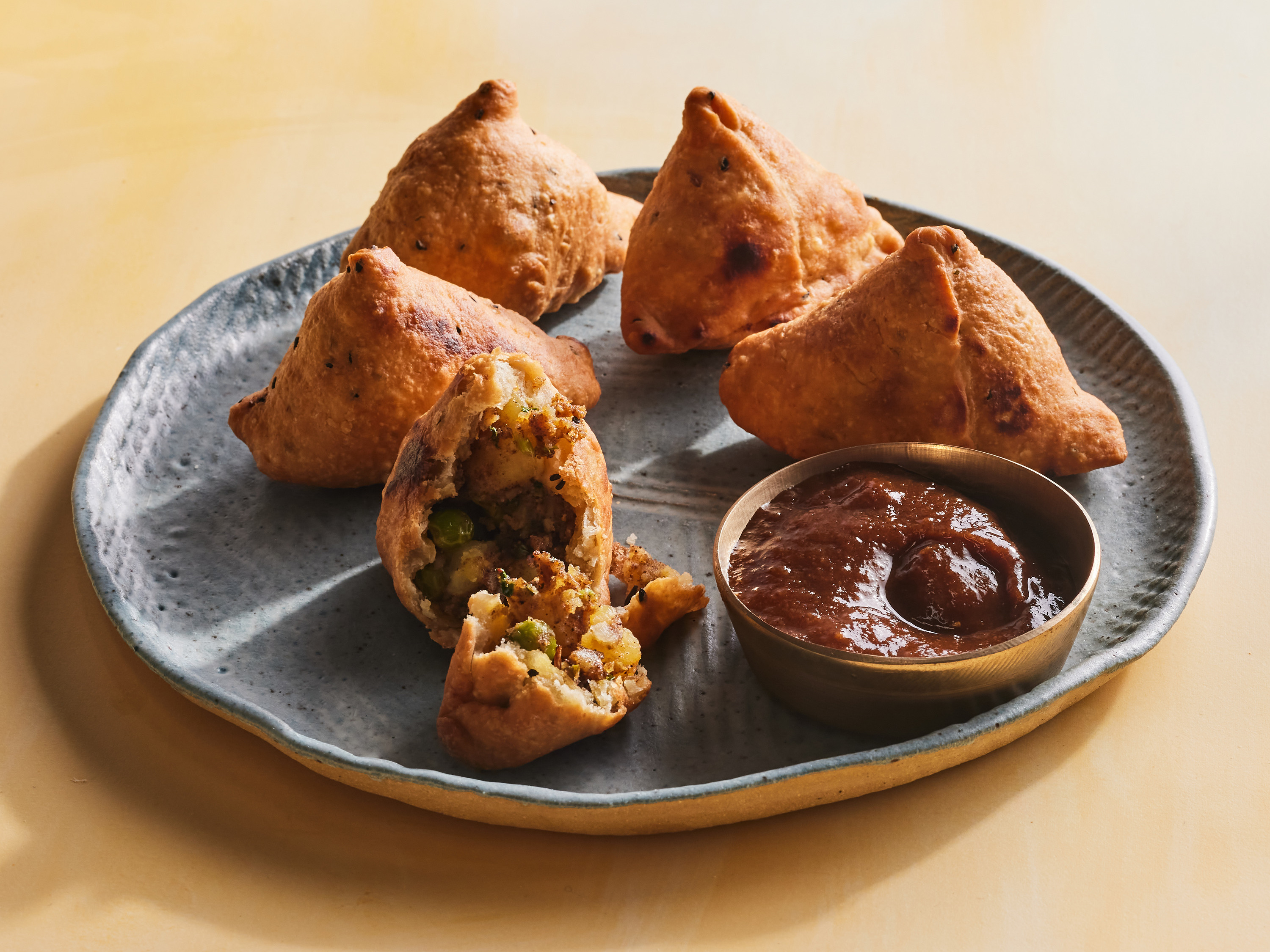 Photo By: Matt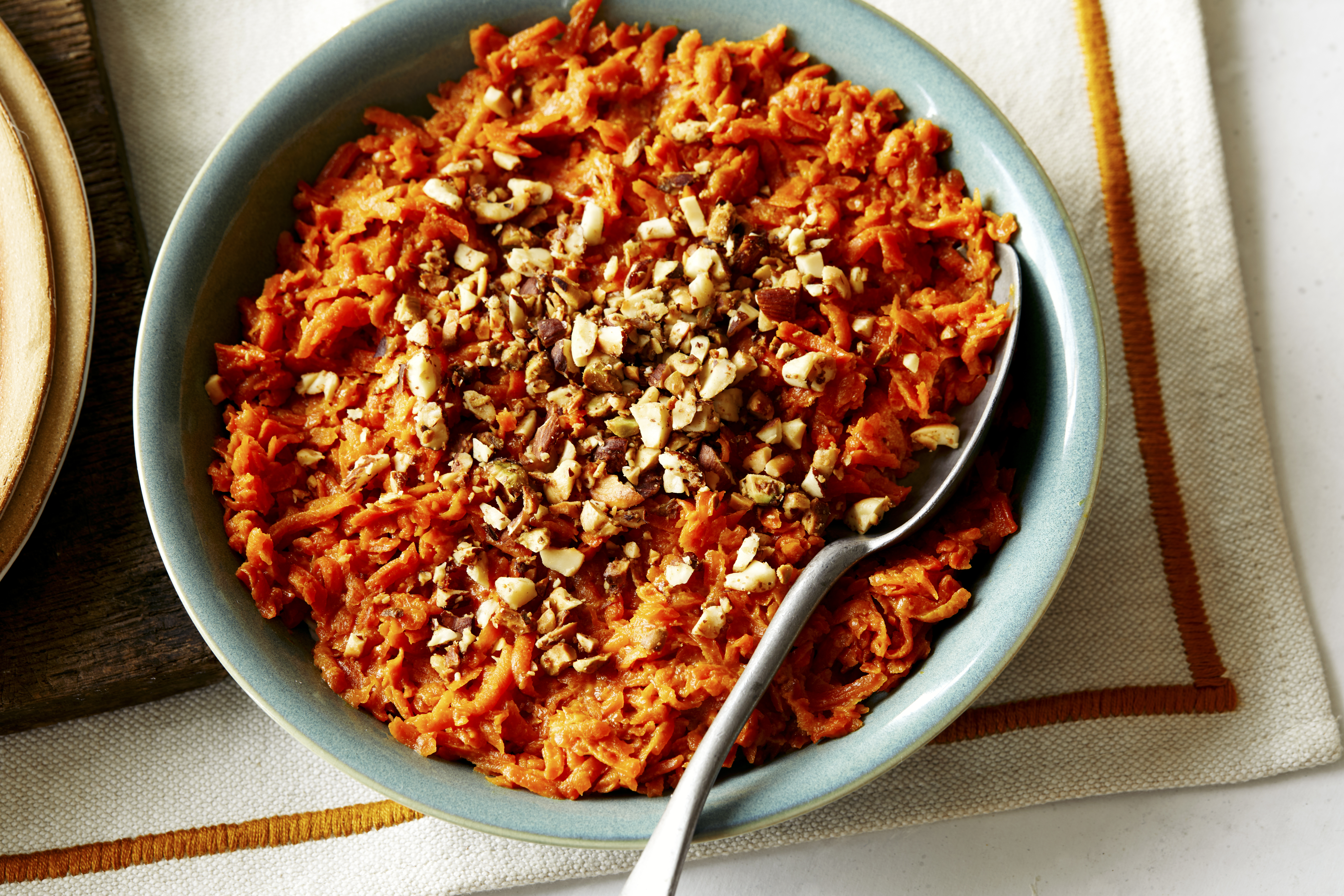 Photo By: Teri Lyn Fisher
Photo By: Teri Lyn Fisher
Photo By: Matt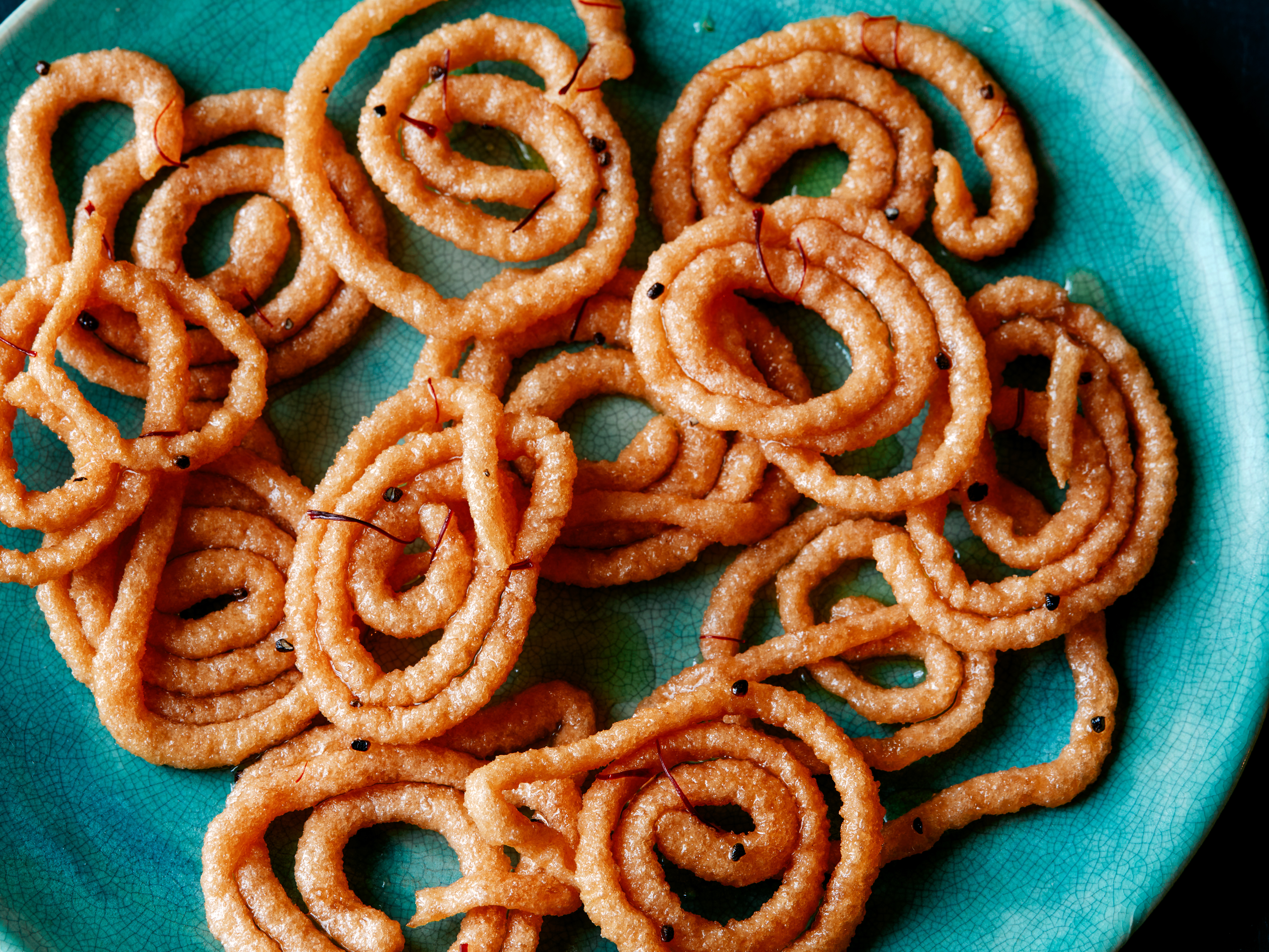 Photo By: Teri Lyn Fisher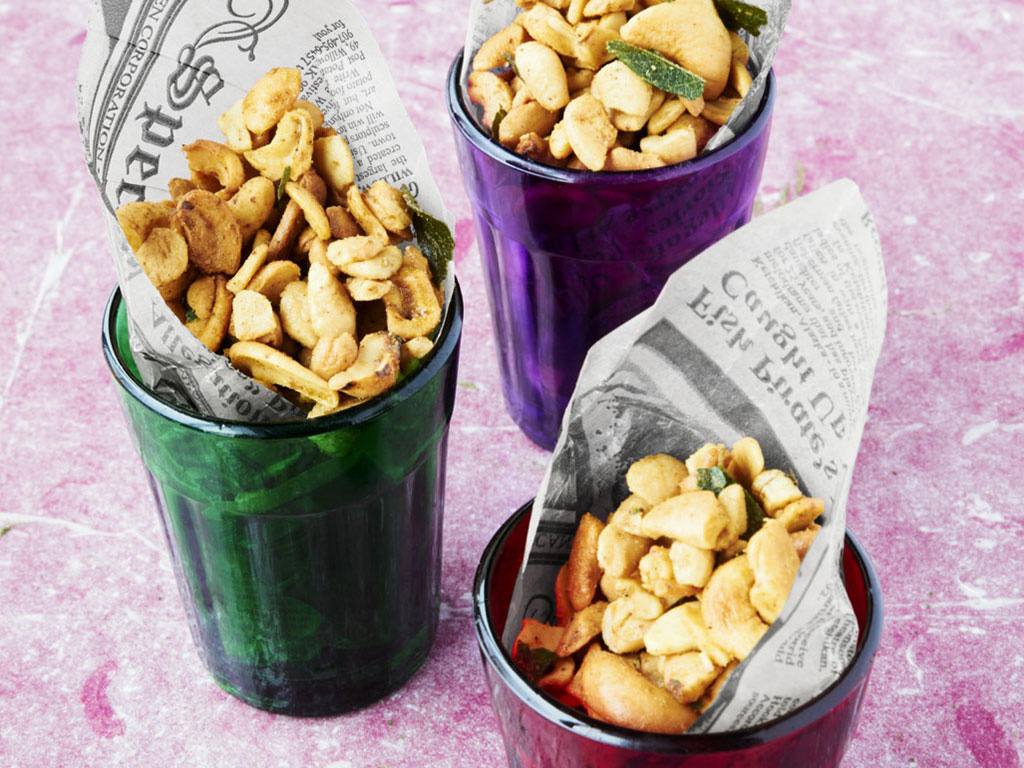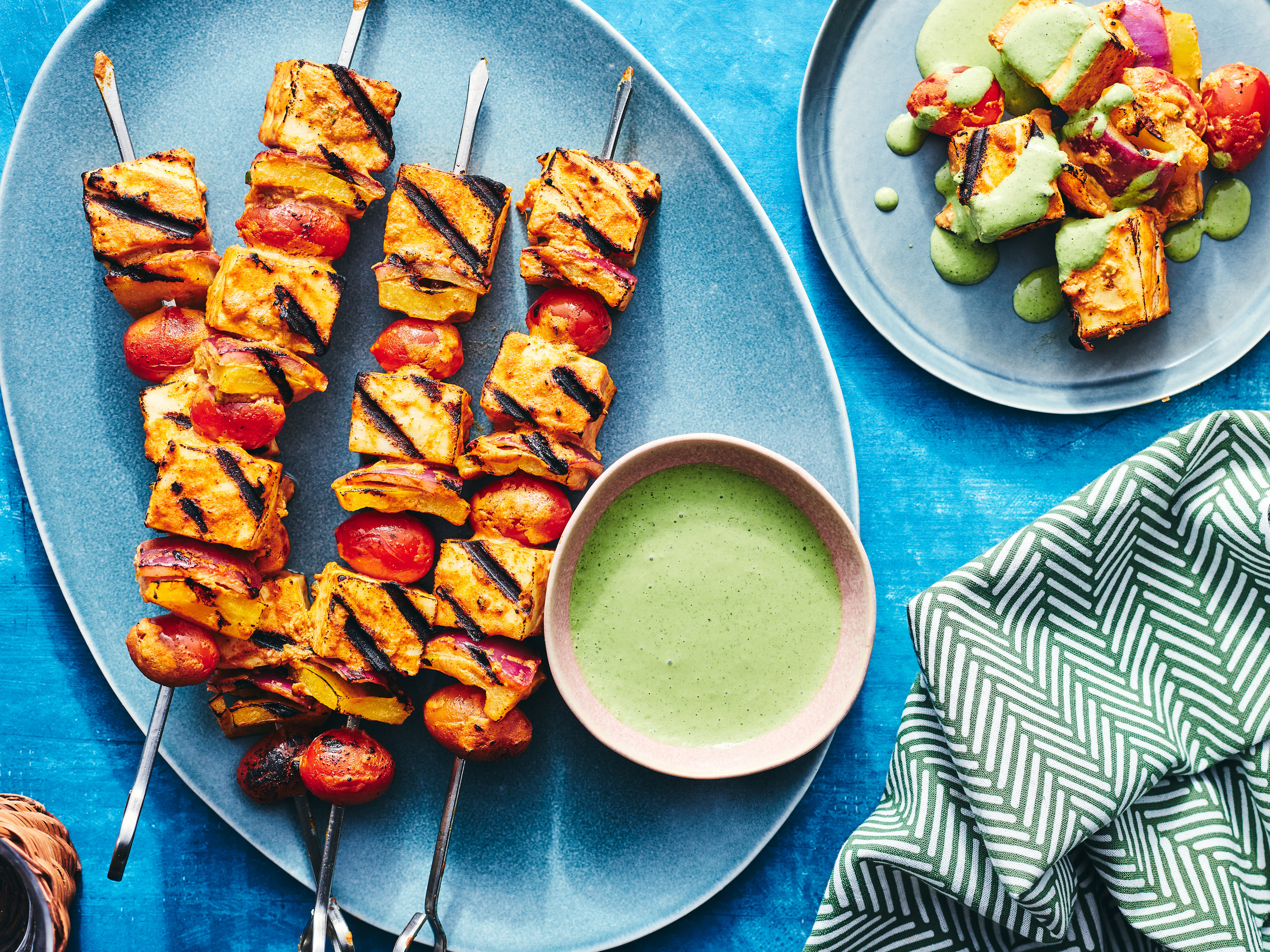 Photo By: Matt
Photo By: Teri Lyn Fisher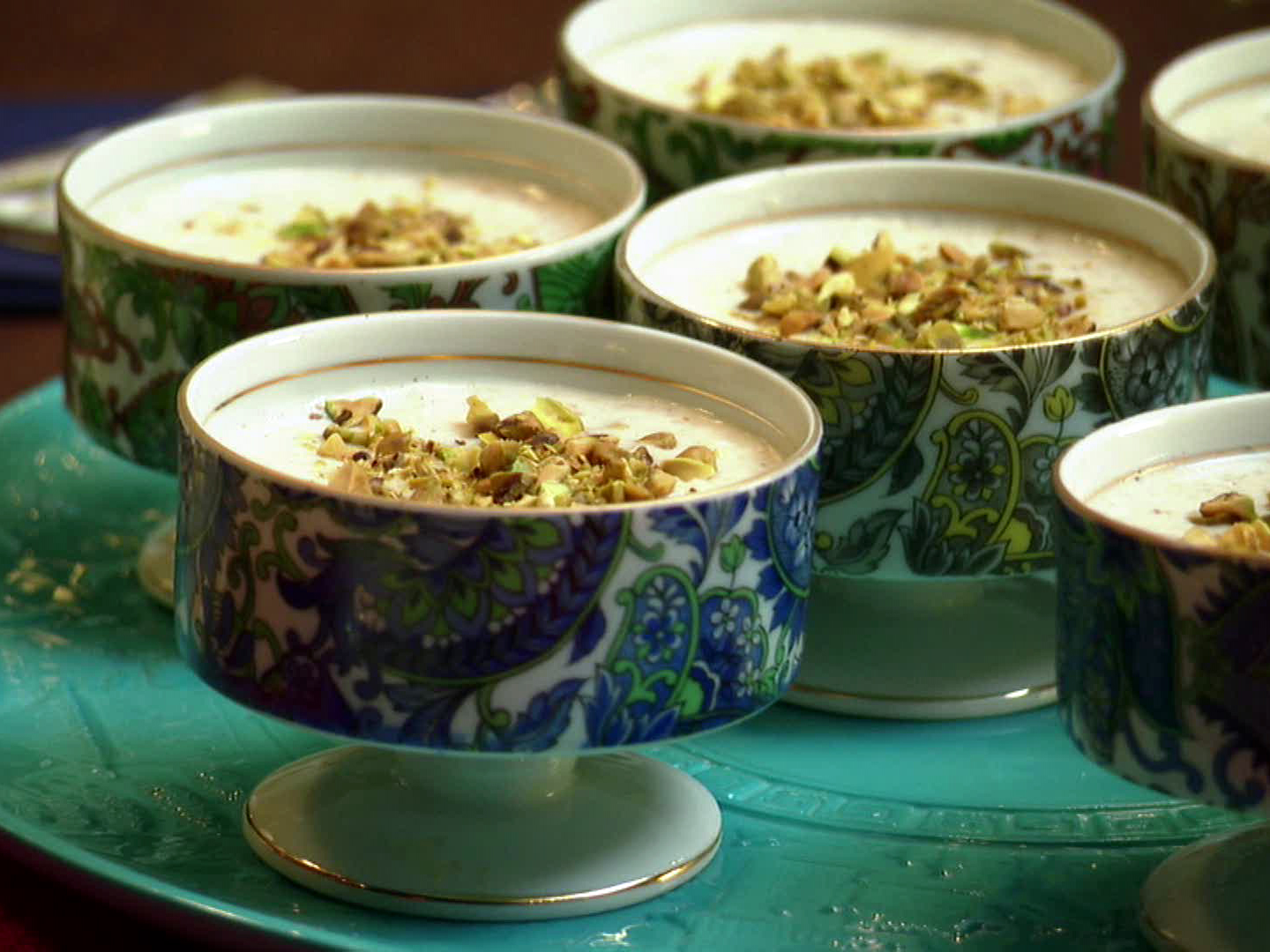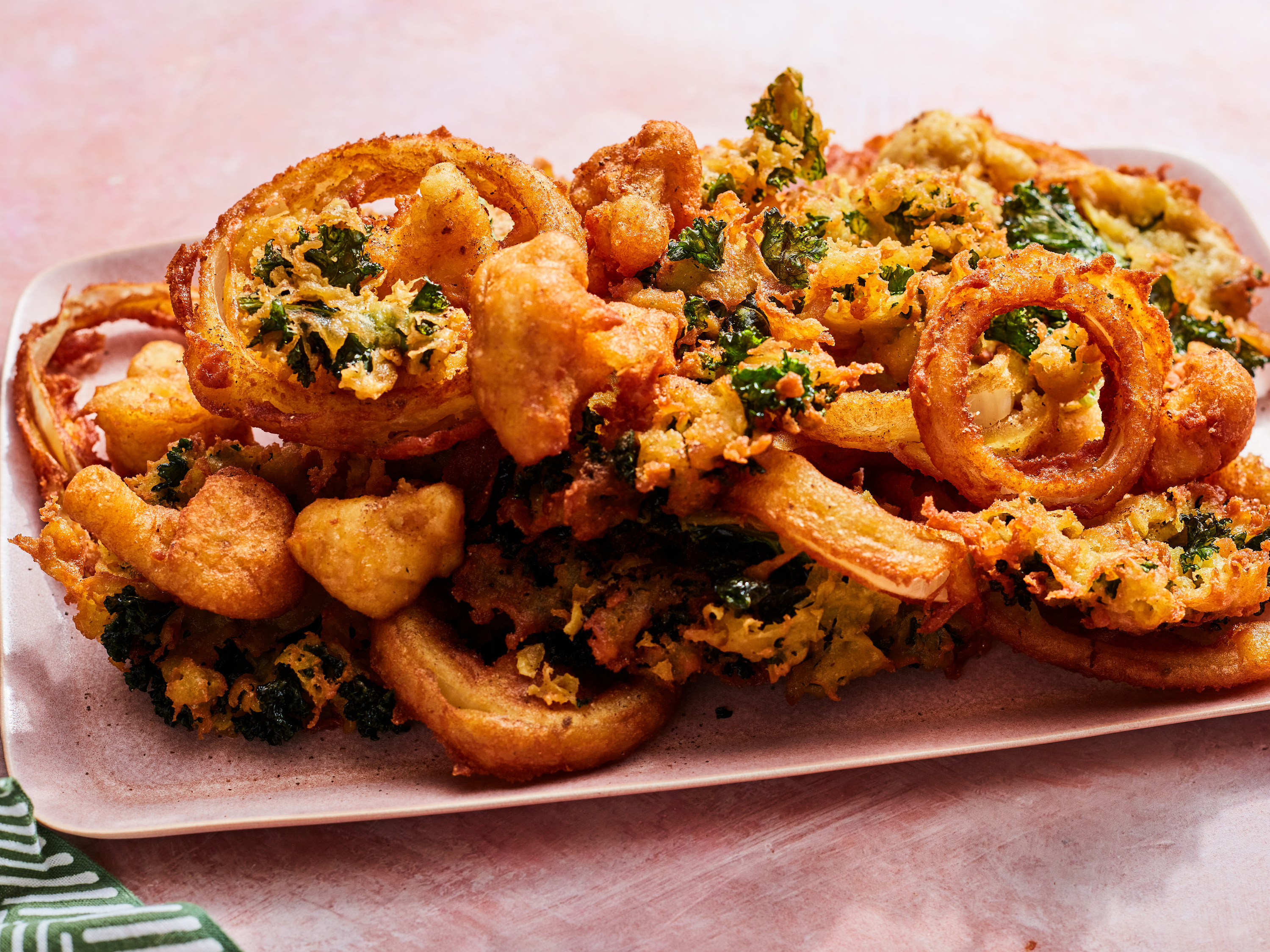 Photo By: Matt
Photo By: Armando Rafael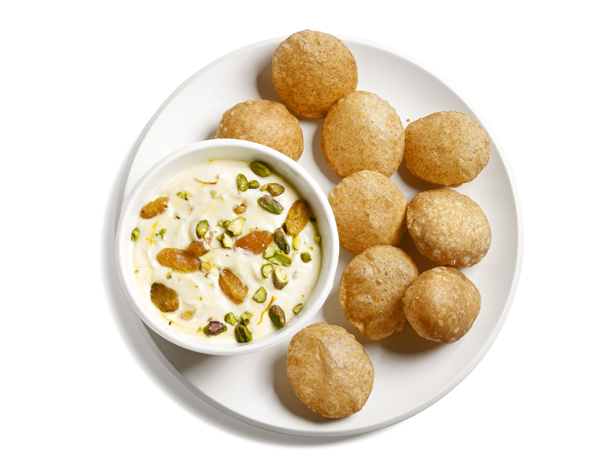 Photo By: Charles Masters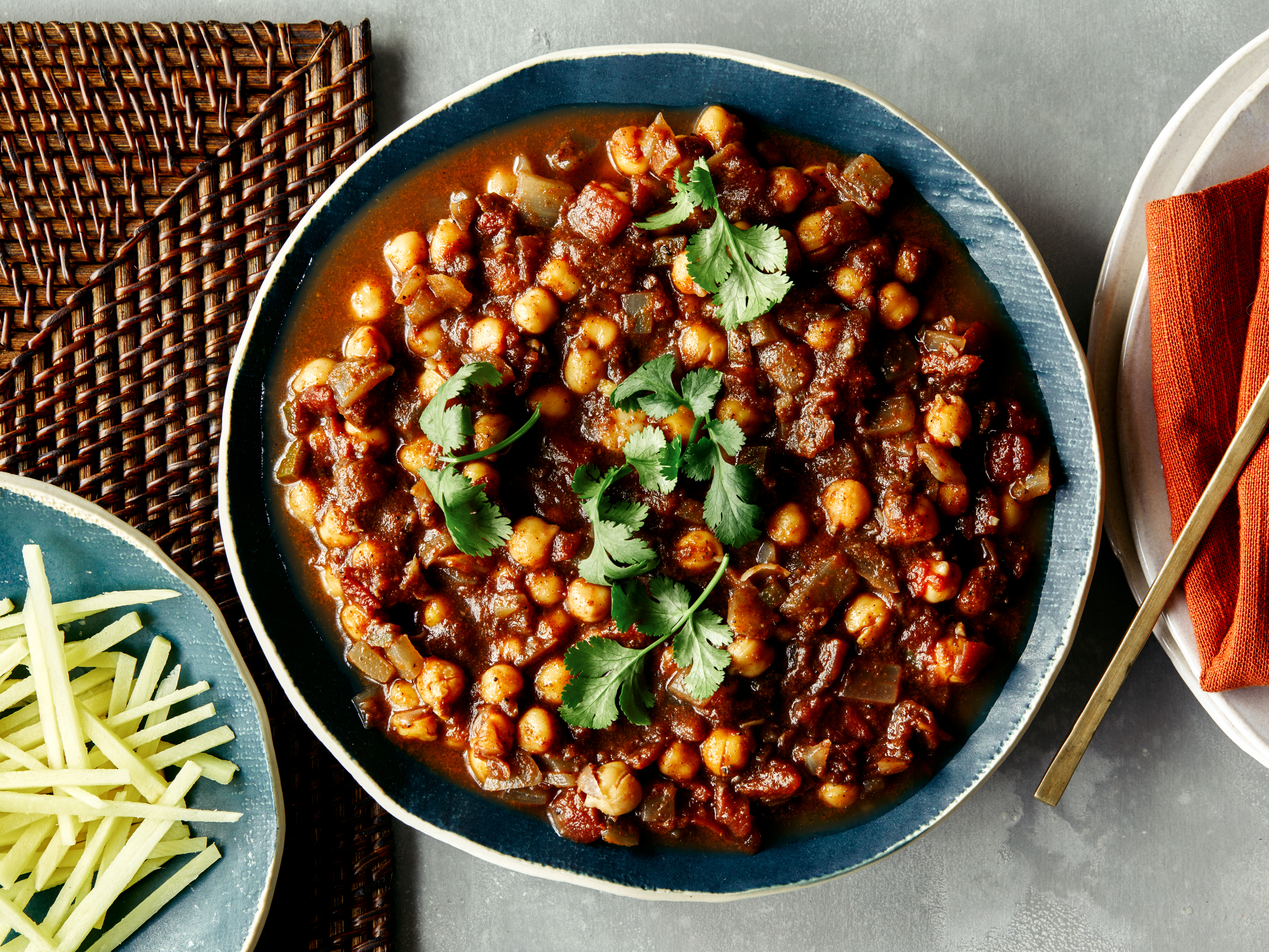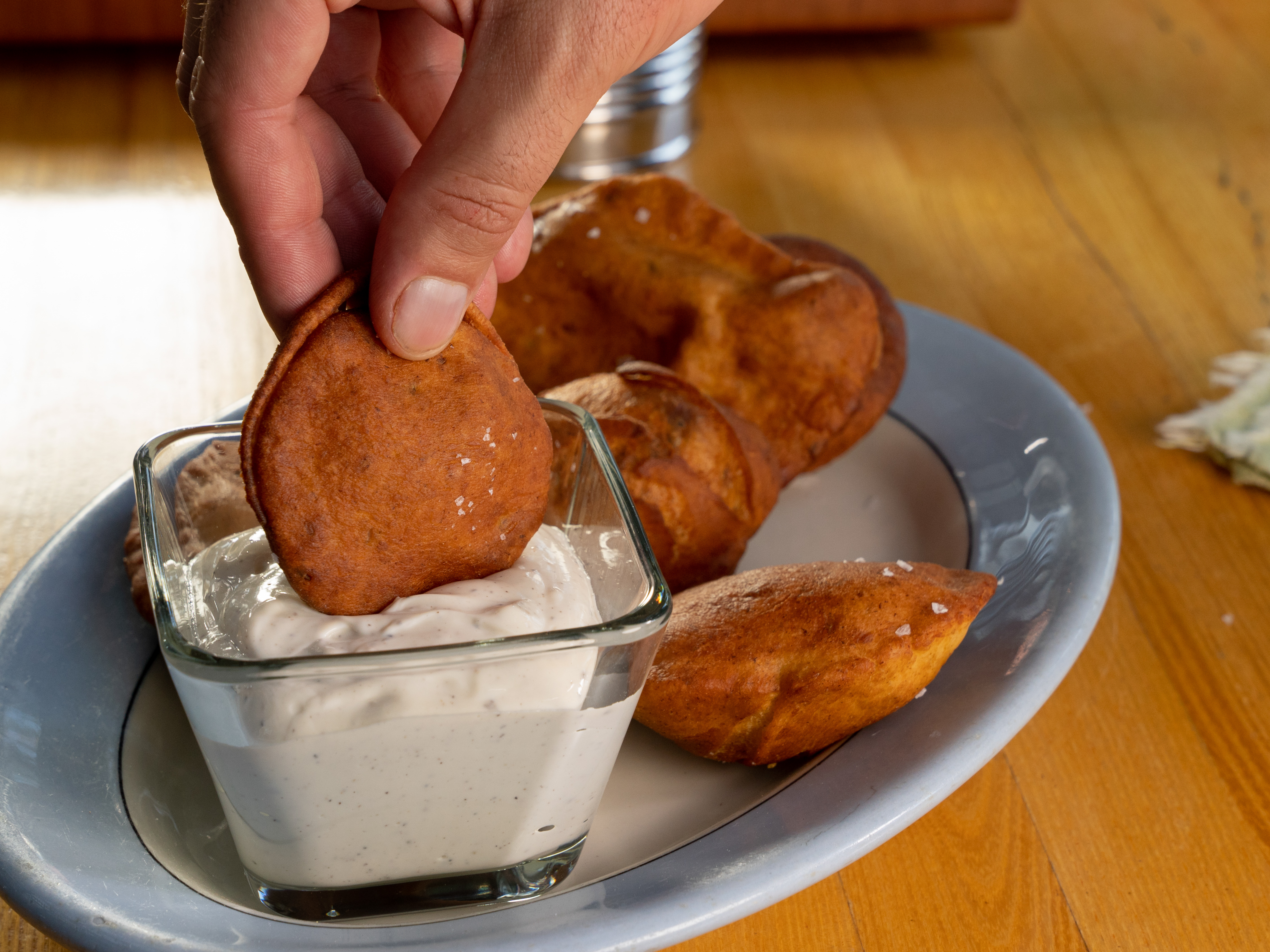 Photo By: Michael Moriatis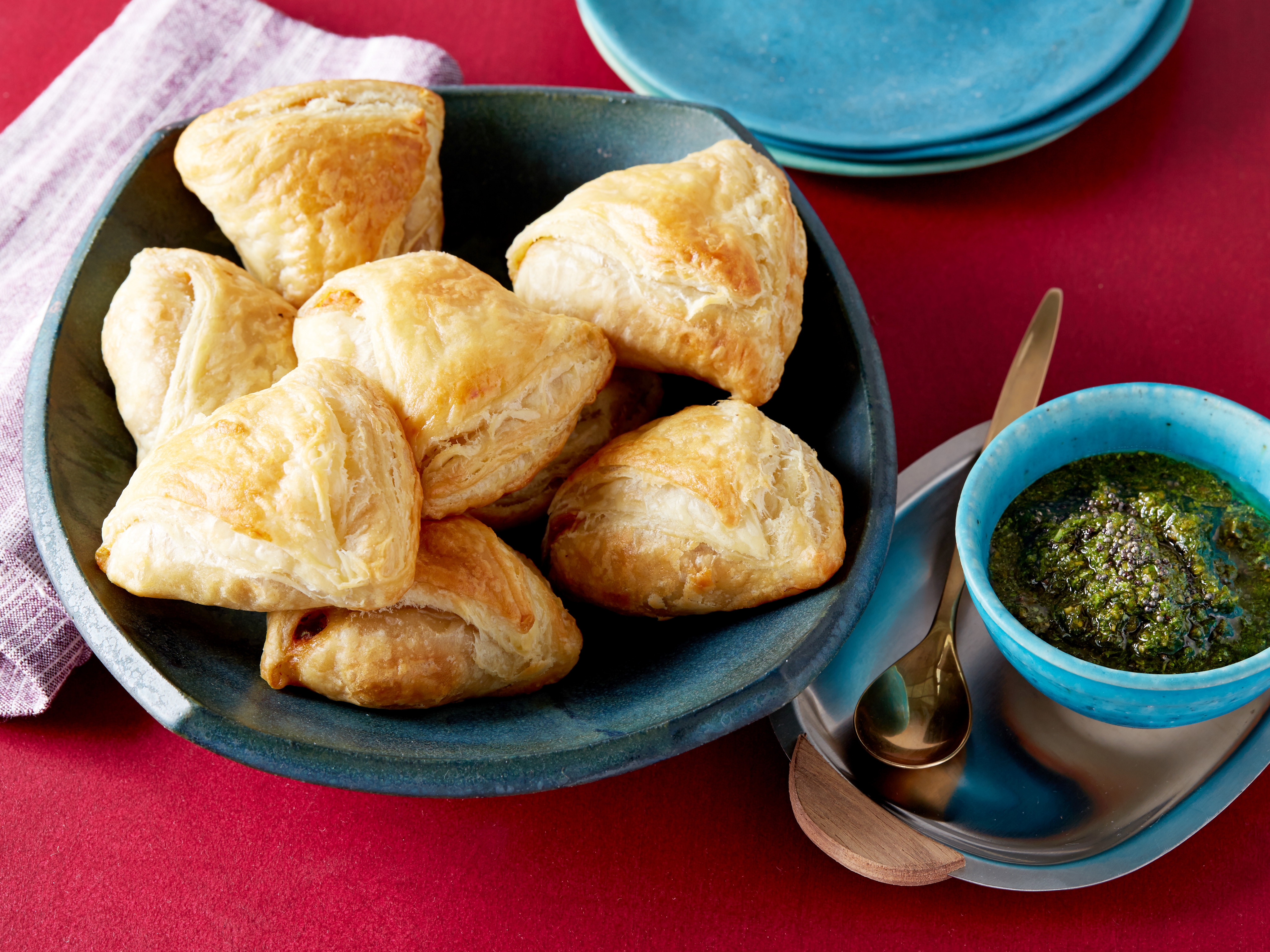 Photo By: Alice Gao©2014, Cooking Channel, LLC. All Rights Reserved.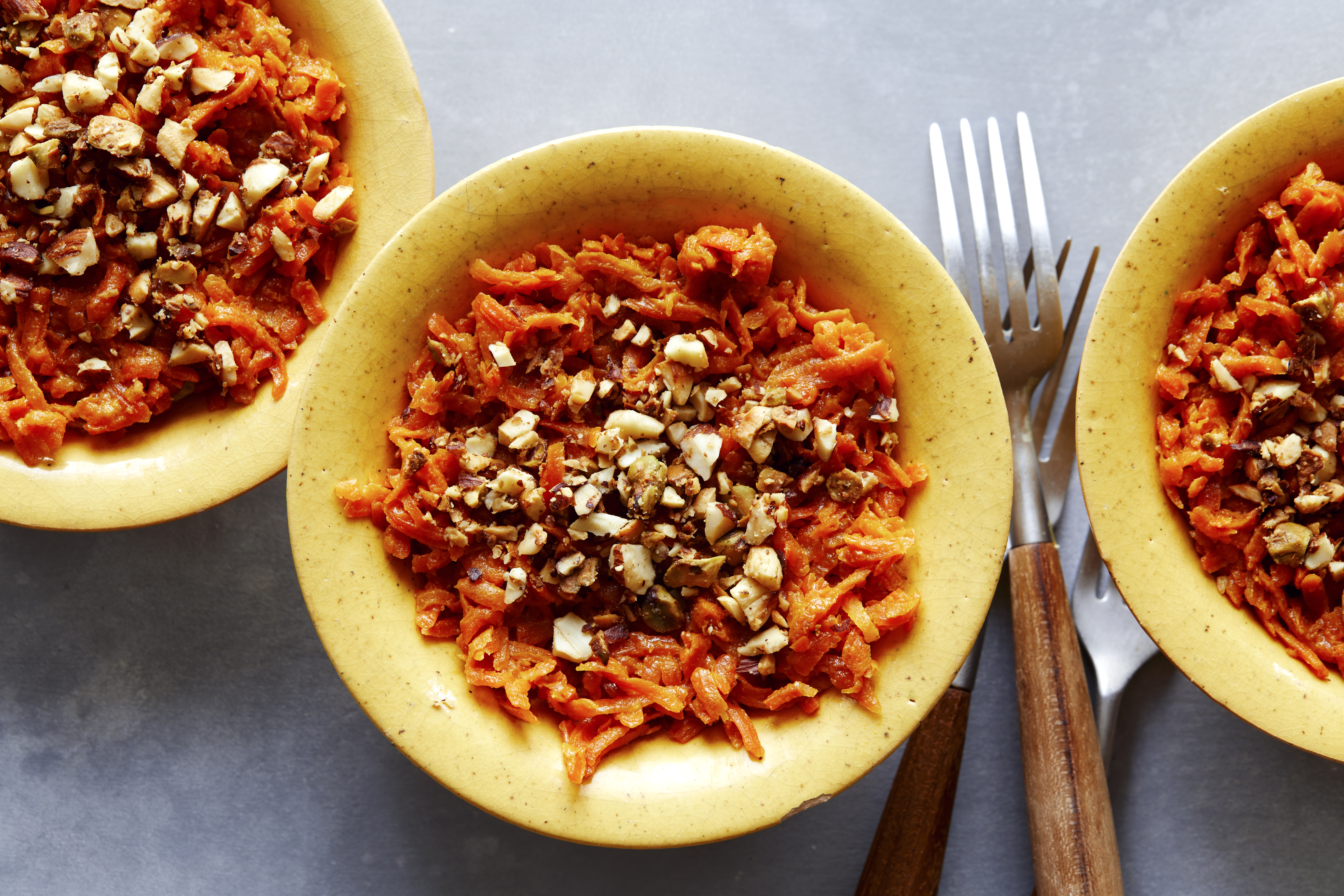 Photo By: Teri Lyn Fisher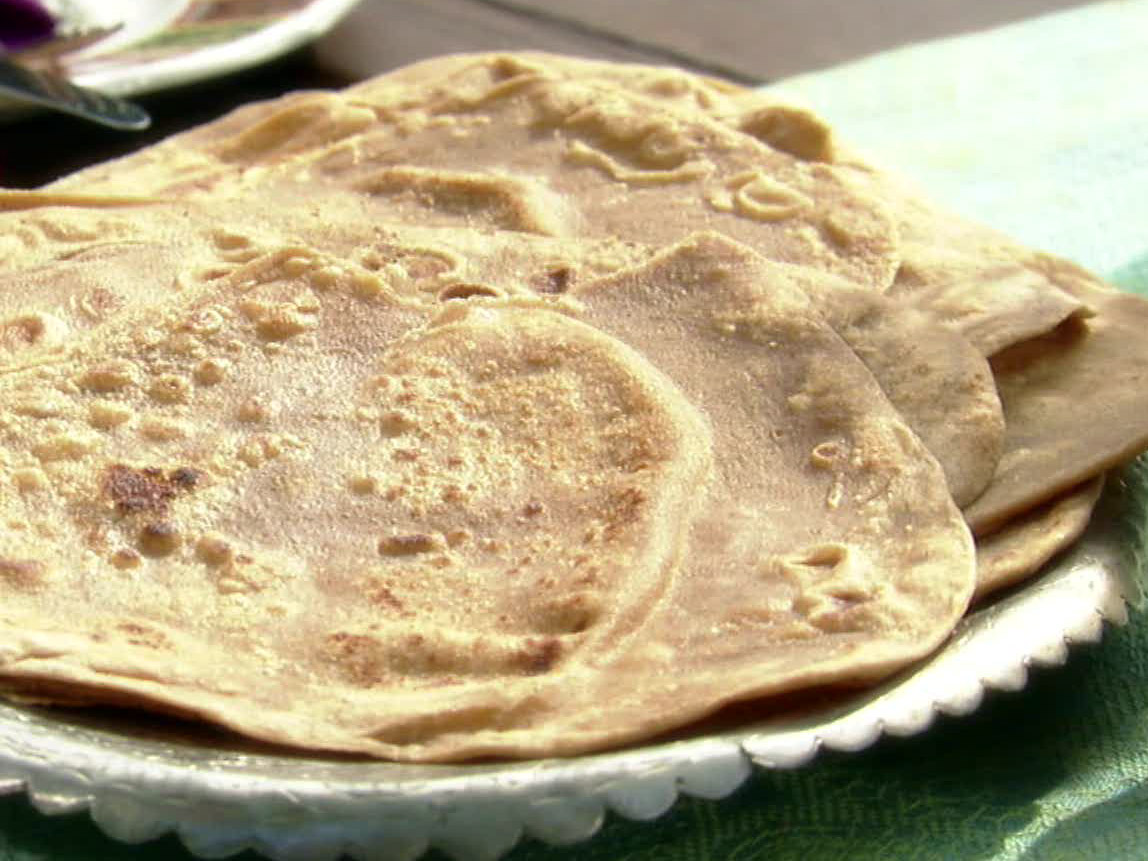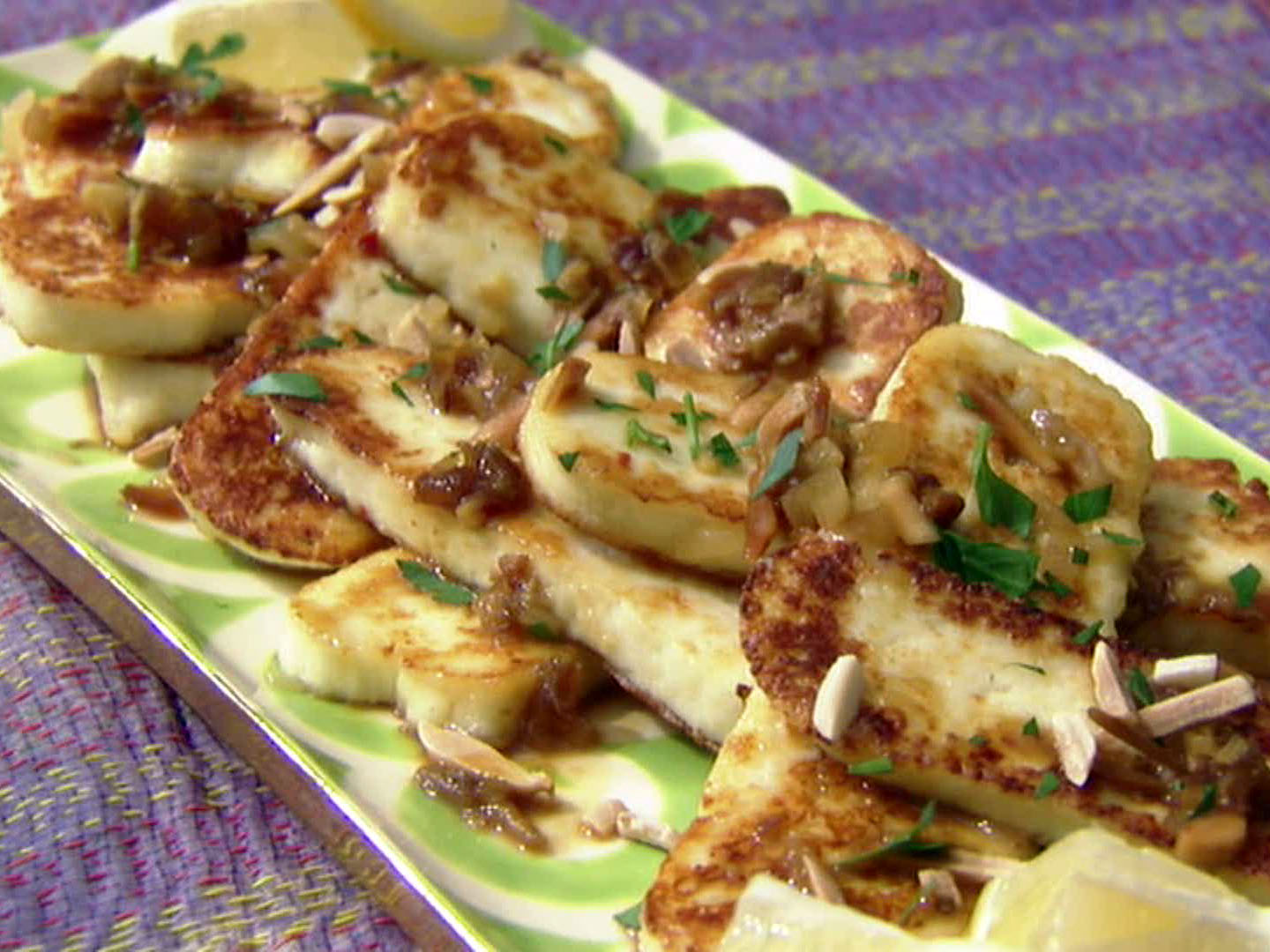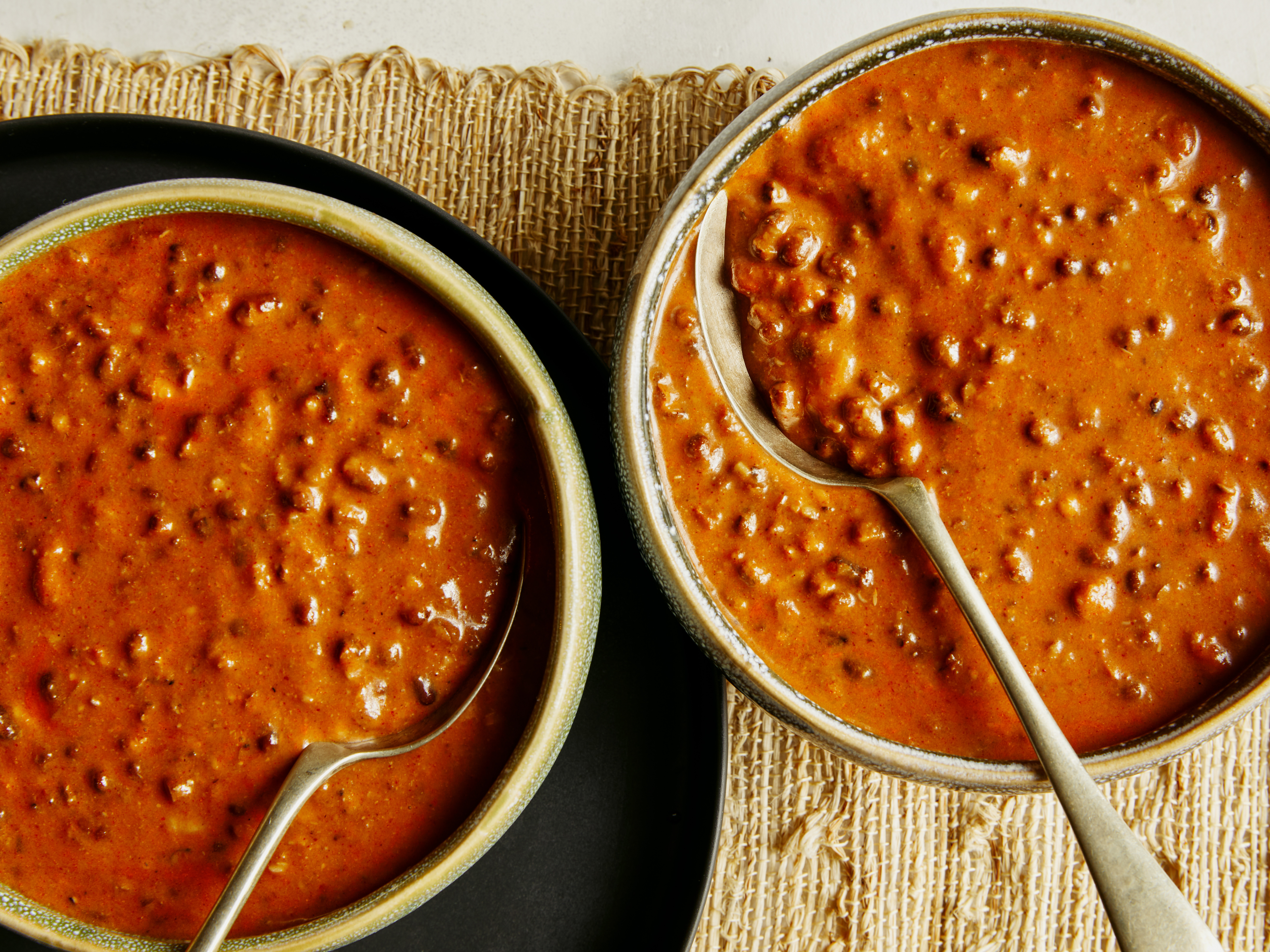 Photo By: Teri Lyn Fisher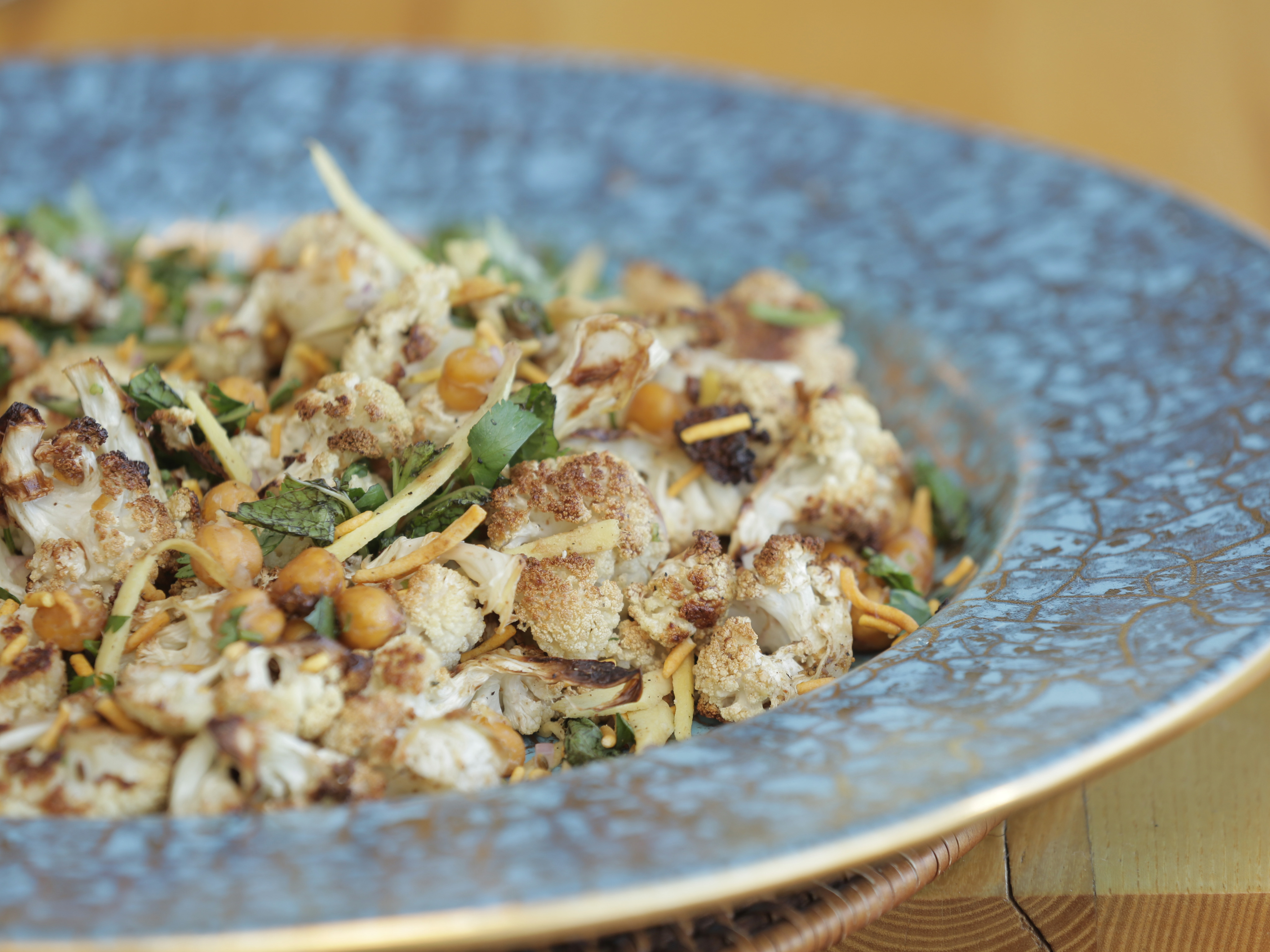 Gulab Jamun
Diwali (or the Hindu Festival of Lights) is a celebration of good vanquishing over evil. The holiday is observed with lighting dozens of small lamps called diya, fireworks, rituals, prayers and food. Diwali sweets are a must during this holiday, with friends and family presenting each other with trays and beautifully-wrapped boxes of luxurious confections featuring nuts, milk and expensive spices like saffron and cardamom. These pillowy soft, syrup-soaked fritters are a favorite during the holiday. They can be finicky to make (as they are traditionally made from khoya, a solidified milk product, and need to be fried at a low temperature) but this recipe makes them simpler to prepare by calling for milk powder rather than khoya.
Get the Recipe:Gulab Jamun
Samosas with Tamarind-Date Chutney
Samosas are perhaps one of the most popular Indian savory snacks and a fixture among the many Diwali treats. They are essentially fried triangles of pastry filled with spicy fillings, potatoes being the most common. This recipe includes instructions for making your own homemade pastry and sweet/tart tamarind and date chutney. However, if you want a shortcut, you can use frozen empanada disks in place of the pastry. Just slice them in half through the middle and pinch the edges closed.
Get the Recipe:Samosas with Tamarind-Date Chutney
Gajar ka Halwa
Diwali sweets are an integral part of this Hindu festival of lights. While many households outsource their sweets (called mithaai) from confectioners, there are some that are best made at home, like this gajar ka halwa. This is a traditional North Indian pudding made from sweet grated carrots and warm spices, like cardamon.
Get the Recipe:Gajar Ka Halwa
Aloo Matar Tikki
These potato and pea patties are full of flavor from homemade chaat masala — a spice mixture that is popular for seasoninig and serving Indian snacks called chaat. It also includes ginger, cilantro and green chiles for a kick. You can form these tikkis ahead of time and fry them when you're ready to serve.
Get the Recipe:Aloo Matar Tikki
Paneer
Paneer is a type of fresh, uncultured Indian cheese that is used in many vegetarian dishes. It's a great addition to dishes like saag paneer (paneer in spinach sauce) and malai kofta (paneer and vegetable "meatballs" in a rich sauce). You don't need any special ingredients for this cheese, just milk and lemon juice. And it's vegetarian-friendly, as it doesn't use rennet like most Western-style cheeses do.
Get the Recipe:Paneer: Homemade Indian Cheese
Jalebi
Jalebis are one of the most popular Diwali sweets and consist of crunchy spirals of fried dough soaked in spiced syrup. Each bite of these delicate sweets bursts with fragrant syrup while still remaining crunchy. While they're good at room temperature or even cold, jalebis are best when they're just made and still warm.
Get the Recipe:Jalebi
O.M.Ghee Snack Mix
Indian cuisine features a plethora of savory snack mixes featuring nuts, puffed grains, and crunchy bits with an assertive dash of masala spices that tickle the palate. While you can pick up bags of chewda at many South Asian stores, making it at home is a breeze! Maneet Chauhan's recipe is a simple place to start and stars cashews fried in ghee with curry leaves and spices.
Get the Recipe:O.M.Ghee Snack Mix
Paneer Tikka Kebabs
Tikka is a type of kebab dish usually made with chicken and originated introduced to India by the Moghuls who hailed from Central Asia. The dish was adapted to local tastes and features a myriad of spices and seasonings. Since many Hindus are vegetarian, some creative chefs made adaptations of these kebabs using paneer. You get all the great flavor of tikka without any of the meat!
Get the Recipe:Paneer Tikka Kebabs
Malai Kofta
Kofta are another meat-based specialty brought to India by the Moghuls and adapted to meet Hindu dietary requirements. Malai is the term for cream in Hindi, and these kofta "meatballs" are simmered in a rich and creamy sauce. The "meatballs" themselves are entirely vegetarian and made from potatoes stuffed with a delicious mixture of paneer, nuts and dried fruit.
Get the Recipe:Malai Kofta
Kheer
Kheer can be best described as Indian-style rice pudding. However, it's so much more than that. The basmati rice used in traditional kheer recipes is less starchy, so you end up with a pudding that isn't as gloopy. The old-school way of making kheer involves reducing milk slowly over many hours until it has a custardy consistency. Aarti Sequeira's recipe bypasses that process, making for a kheer that is ready to serve in a fraction of the time.
Get the Recipe:Indian Rice Pudding
Vegetable Pakoras
Pakoras are to Indian cuisine what tempura is to Japanese cuisine. Both dishes consist of batter-fried foods, and just like you can dip pretty much anything in tempura batter, pakora batter is a great coating for any food (including paneer). But the similarities end there. Pakora batter is gluten free and made with a combination of chickpea flour and rice flour. As well, it features a variety of spices, so these fritters are flavorsome all by themselves, although they're always yummy dipped into chutney.
Get the Recipe:Vegetable Pakoras
Papdi Chaat
Papdi chaat is one of India's most popular chaats, a category of savory street snacks enjoyed throughout the country and abroad. Papdi are a type of fried wafer that adds crunch to the mixture of soft boiled potatoes and chickpeas in this salad-like dish. If you can't find papdi, however, you can easily use round tortilla chips in its place. All the elements of this dish can be prepared ahead of time and the whole chaat can be assembled when you're ready to serve your Diwali feast.
Get the Recipe:Papdi Chaat
Shrikhand and Pooris
Shrikhand is a simple-to-make Diwali sweet consisting of sweetened strained yogurt with spices like cardamon and saffron. It's something that requires no cooking and very little activity on your part, so you can focus on the other Diwali goodies. Pooris (puffy fried discs of dough) are a great accompaniment to this dessert.
Get the Recipe:Shrikhand and Pooris
Chana Masala
Chana masala is a chickpea dish that originated in the northern state of Punjab, which is known for its rich, buttery food. This recipe is a little involved and requires several steps, including boiling dried and soaked chickpeas with black tea and black cardamom, which both give the chickpeas a deep, smokey flavor. This recipe also includes instructions for making your own from-scratch masala blend. But the hard word is more than worthy of the exquisite results
Get the Recipe:Chana Masala
Mangalore Buns
These crisp, slightly sweet fritters come from Southern India and are quite the departure from Western-style soft, fluffy baked buns. The dough for Mangalore buns features a mashed banana, as well as spices like turmeric and cumin. The cumin's nutty flavor adds a depth of flavor to these versatile snacks that can be dunked in sweet or savory dips or chutneys.
Get the Recipe:Mangalore Buns
Baked Samosas with Mint Chutney
This is an easy samosa recipe from Aart Sequeira, which uses frozen puff pastry dough and a hot oven to turn out these favorite Diwali snacks. On top of that, these puffy samosas feature potato, chicken and mango in them, as well as some smokey chipotle sauce for a cross-cultural treat. The mint chutney recipe isn't as spicy as traditional ones, instead focusing on the refreshing flavor of mint.
Get the Recipe:Baked Samosas with Mint Chutney
Vegan Carrot Halwa
Traditional gajar ka halwa (carrot halwa) includes clarified butter called ghee, along with other dairy products like khoya, a type of crumbly reduced milk product used in many Diwali sweets. This version scraps all the dairy products for plant-based butter and milk while still maintaining the great flavors of traditional halwa.
Get the Recipe:Vegan Halwa
Chapatis
Chapatis are one of the most staple flat breads eaten in India and can accompany most meals. They're commonly made with whole-wheat flour, too, and don't include a lot of oil, butter or ghee, which makes them a healthier choice compared to some of the richer Indian-style breads. You can make a lot of them ahead of time and freeze them for later use, too.
Get the Recipe:Indian Whole Wheat Griddle Breads: Chapatis
Spicy Paneer Fingers with Dates and Almonds
There are many traditional applicaitons for paneer within Indian cuisine. However, this fresh Indian-style cheese has the potential to be the star in so many more creative recipes, like this one. In this recipe, paneer is pan fried until golden brown and then simmered in a sweet and savory sauce. You can easily make this recipe vegetarian by substituting vegetable broth in place of chicken stock.
Get the Recipe:Spicy Paneer Fingers with Dates and Almonds
Dal Makhani
Dal Makhani literally has the word butter written into its name. It is a buttery, creamy bean or lentil dish with a long, colorful history, including being a star attraction at what many consider to be India's first restaurant, Moti Mahal. This version features black urad dal, which resemble jet-black chickpeas, and red kidney beans. The kashmiri chile called for in this recipe isn't as spicy as other Indian chiles and gives the dish a low-key heat and beautiful reddish-brown hue.
Get the Recipe:Dal Makhani
Cauliflower Chaat Salad with Tamarind Date Chocolate Chutney
Chaat is a term used to describe a large variety finger-lickingly tasty snacks within Indian cuisine. Many of them feature potatoes and/or chickpeas. However, Aarti Sequeira shakes things up a bit with roasted cauliflower, chickpeas and colorful radicchio. Even the chutney gets a makeover with the addition of cocoa powder.
Get the Recipe:Cauliflower Chaat Salad with Tamarind Date Chocolate Chutney
Source: Read Full Article