Total:

30 min

(includes cooling time)

Active:

30 min
Yield:

4 servings

Nutrition Info

Nutritional Analysis

Per Serving

Calories

187

Total Fat

11 grams

Saturated Fat

2 grams

Cholesterol

93 milligrams

Sodium

979 milligrams

Carbohydrates

16 grams

Dietary Fiber

5 grams

Protein

9 grams

Sugar

6 grams
Ingredients
Directions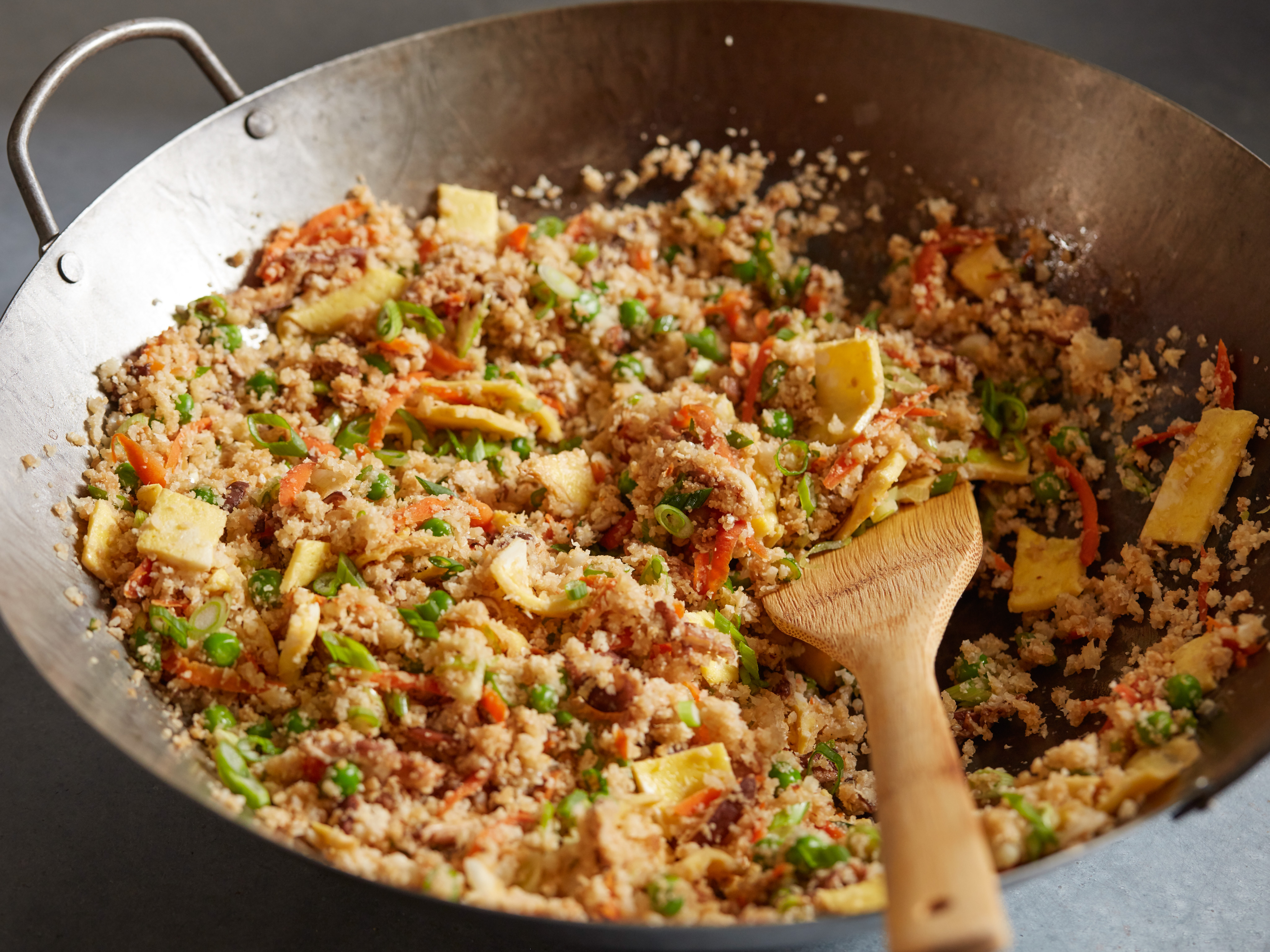 Preheat the oven to 425 degrees F. In 2 batches, break up the florets into a food processor and pulse until the mixture resembles couscous, 10 to 12 seconds. Spread the cauliflower out on a foil-lined, lightly oiled baking sheet and roast, stirring halfway through, until the cauliflower begins to soften and is golden in spots, about 15 minutes. Allow to cool 10 minutes, then transfer to a bowl.
Heat 2 teaspoons peanut oil in a well-seasoned wok or large nonstick skillet over medium-high heat. Swirl to coat the pan. Pour in the eggs and swirl the pan so the egg forms a large thin pancake. (Lift the edge of the egg to allow any uncooked egg to run to the center.) As soon as the egg has set, turn it out of the pan onto a cutting board. Cool and cut into 1/2-inch pieces.
Meanwhile, wipe out the pan with a paper towel and heat the remaining tablespoon peanut oil over high heat. Add the mushrooms, scallions and carrots and cook, stirring, 1 1/2 minutes. Add the garlic and ginger and cook, stirring, 1 minute more. Add the soy sauce, sesame oil, cauliflower and 1/2 teaspoon salt and cook, stirring often, for 2 to 3 minutes. Add the peas and reserved egg and cook, stirring, until heated through, 1 to 2 minutes. Top with the reserved scallions and serve immediately.
Source: Read Full Article