Total:

40 min

Active:

40 min
Ingredients
Gravy:
Cauliflower:
Directions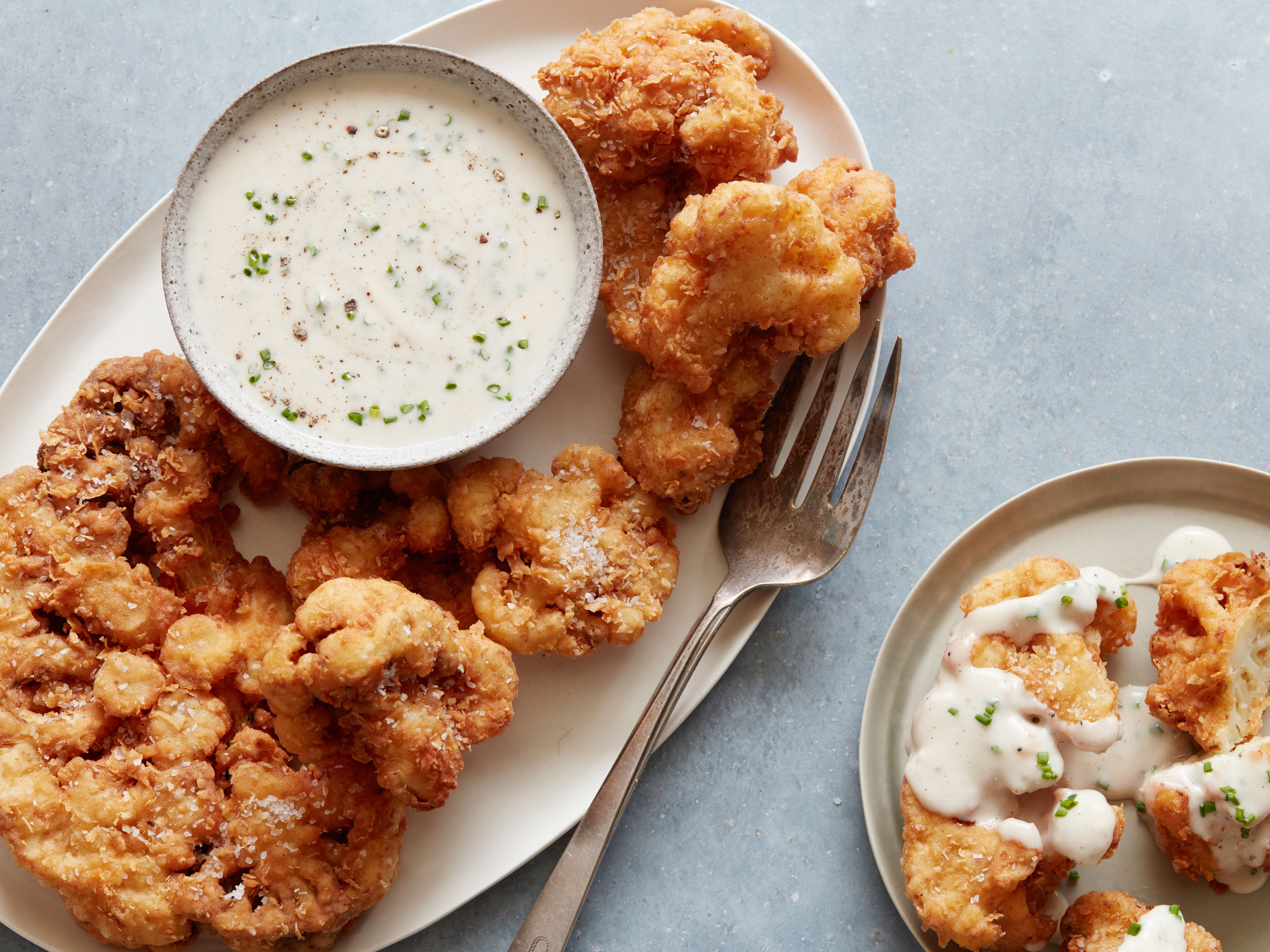 Special equipment:
For the gravy: Melt the butter, in a medium saucepan, over medium heat. Sprinkle in the flour, and cook, whisking, until the flour is smooth and a deep golden brown, about 7 minutes. Gradually whisk in the milk and simmer until the mixture thickens, whisking to remove any lumps, 4 to 6 minutes. Season with 2 teaspoons salt and 1 teaspoon pepper. Remove from the heat, cover to keep warm. Reheat before serving, adding water by the tablespoon to thin it, as desired. Stir in the chives right before serving.
For the cauliflower: Preheat the oven to 250 degrees F. Trim the base of the core from the cauliflower and then cut the head into 1-inch-thick slices. Cut any florets that fall off into 1-inch pieces. Sprinkle 1/4 teaspoon each salt and pepper over both sides of each cauliflower slice. Set aside. 
Whisk together the flour, white pepper, baking powder and 2 teaspoons salt in a shallow bowl. Pour in 3 tablespoons of the milk and use your fingers to work it in, making a shaggy flour mixture. Whisk together the eggs and the remaining milk in another shallow bowl. One at a time, dredge each cauliflower steak, and the 1-inch pieces, in the flour mixture, dip in the egg mixture, and then return to the flour mixture, pressing firmly to coat. Transfer the breaded steaks to a rack on a rimmed baking sheet. 
Set another rack on a rimmed baking sheet. Heat about 1-inch of oil in a cast-iron skillet or Dutch oven over high heat until a deep-fry thermometer registers 350 degrees F. Fry the steaks, one at a time, with some of the smaller pieces until golden brown, turning once, about 5 minutes (return the oil to 350 degrees F between each steak). Transfer the finished cauliflower steaks to the rack on the baking sheet, season lightly with salt and keep warm in the oven while you continue frying the remaining cauliflower in batches. 
Serve hot with the warm gravy. 
Source: Read Full Article