Total:

3 hr 35 min

(includes freezing time)

Active:

30 min
Ingredients
3/4 cup milk
1/2 stick (4 tablespoons) unsalted butter, cubed
1 teaspoon pure vanilla extract
1/2 cup plus 2 tablespoons granulated sugar
1/4 teaspoon kosher salt
1 cup all-purpose flour, plus more for dusting
4 large eggs 
Nonstick cooking spray
1 tablespoon ground cinnamon
Vegetable oil, for frying
Fillings: berries and whipped cream, chocolate pudding with bananas, ice cream 
Directions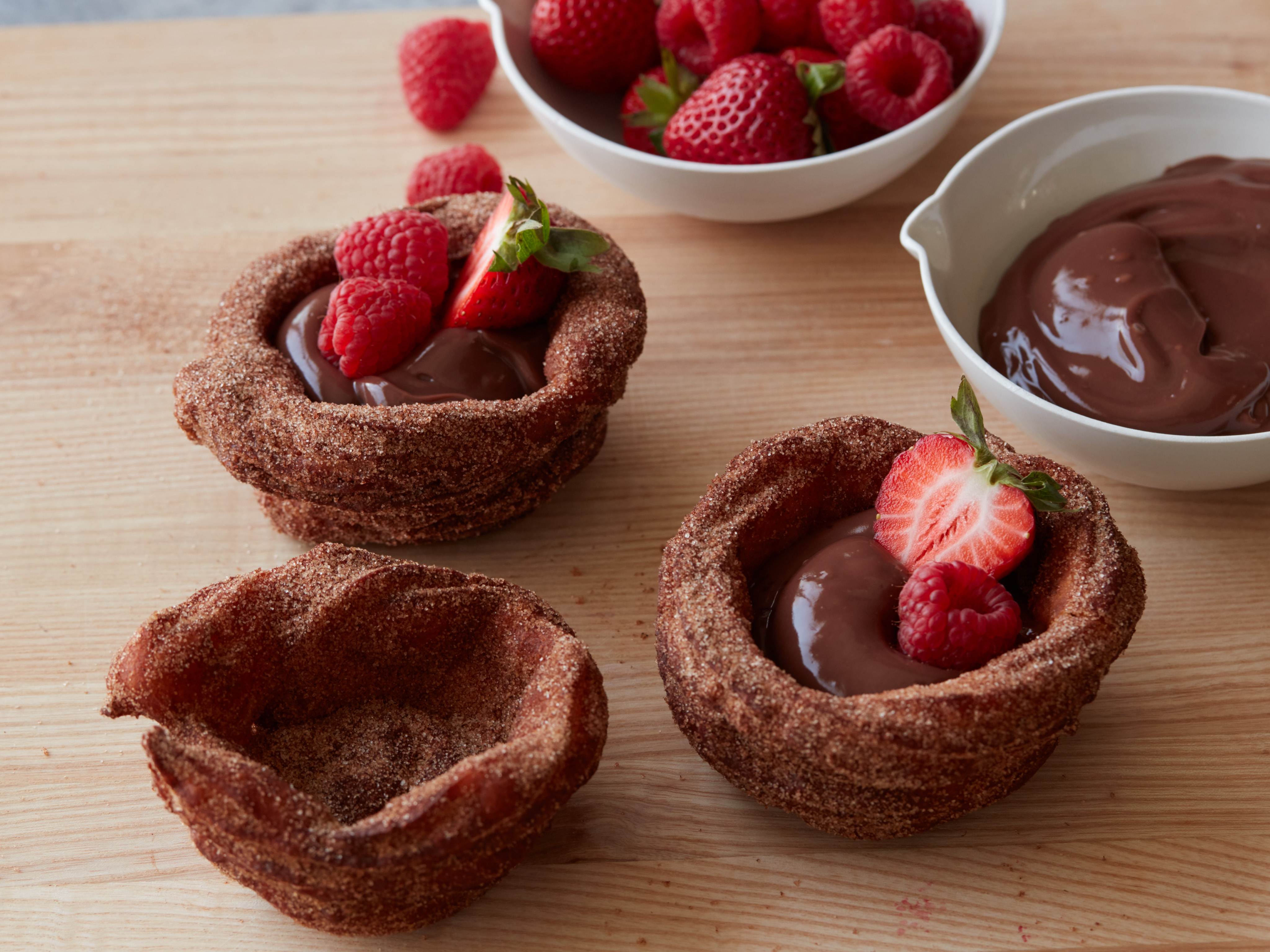 Special equipment:
Bring the milk, butter, vanilla, 2 tablespoons of the sugar and the salt to a boil in a medium saucepan over medium-high heat. Reduce the heat to low and add the flour, stirring constantly with a wooden spoon, until the dough comes together and forms a ball, about 1 minute. Remove from the heat and let cool for 5 minutes.
Stir in the eggs one at a time, making sure that they are fully incorporated before adding the next egg. Transfer the dough to a piping bag fitted with a medium star tip. Invert two 6-cup muffin tins, spray generously with cooking spray and dust with some flour. Pipe the dough in a spiral to form a bowl around every other cup (you should have 3 bowls on one tin and 3 bowls on the other). Transfer the tins to the freezer and freeze until completely solid, about 3 hours or up to overnight. 
Mix the remaining sugar and the cinnamon in a medium bowl. Pour 3 inches of oil in a large, deep, heavy-bottomed pot and heat to 350 degrees F. Remove the bowls from the freezer and release them from the tins using a butter knife. Fry the bowls 3 at a time, making sure they sink to the bottom and fill up with oil when they rise, until nicely browned and crispy, 5 to 6 minutes. Flip them over with a slotted spoon and fry the rim of the bowl, 2 to 3 minutes. Remove from the oil with a slotted spoon and place on a paper-towel-lined plate to catch the excess oil. Roll the bowls in the cinnamon-sugar while they are still warm. Return to the plate to cool. Heat the oil back to 350 degrees F and repeat with the remaining bowls. Serve warm with your choice of filling. 
Source: Read Full Article