Total:

55 min

Active:

25 min
Ingredients
Directions
Try this cooking class now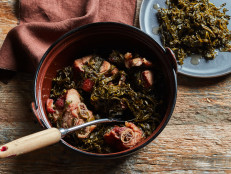 Try this cooking class now
Watch Class
Rinse and dry the collard greens. Cut each leaf in half, removing and discarding the center rib. Stack a few leaves on top of each other, tightly roll together and thinly slice. Continue with the remaining leaves. Set aside.
Heat the olive oil in a large pot over medium-high heat until hot. Add the smoked turkey and cook, stirring occasionally, until browned all over, 3 to 5 minutes. Stir in the red pepper flakes and cook for 30 seconds. Add the sliced collard greens, vinegar, sugar, garlic powder and onion powder; season with 1 teaspoon salt and a few grinds of pepper. Stir to incorporate (a pair of tongs works great for this).
Reduce the heat to low and cover the pot. Cook, stirring occasionally, until the greens are wilted, tender and darker in color, 30 to 40 minutes. Season with salt and pepper.  
Source: Read Full Article