Total:

1 hr 30 min

(includes cooling time)

Active:

15 min
Ingredients
1/4 cup olive oil
1 medium pumpkin (about 10 pounds) 
2 teaspoons white sesame seeds 
2 teaspoons black sesame seeds 
2 teaspoons dried minced garlic 
2 teaspoons dried minced onion 
2 teaspoons poppy seeds 
1 teaspoon coarse sea salt 
1 large egg white 
Directions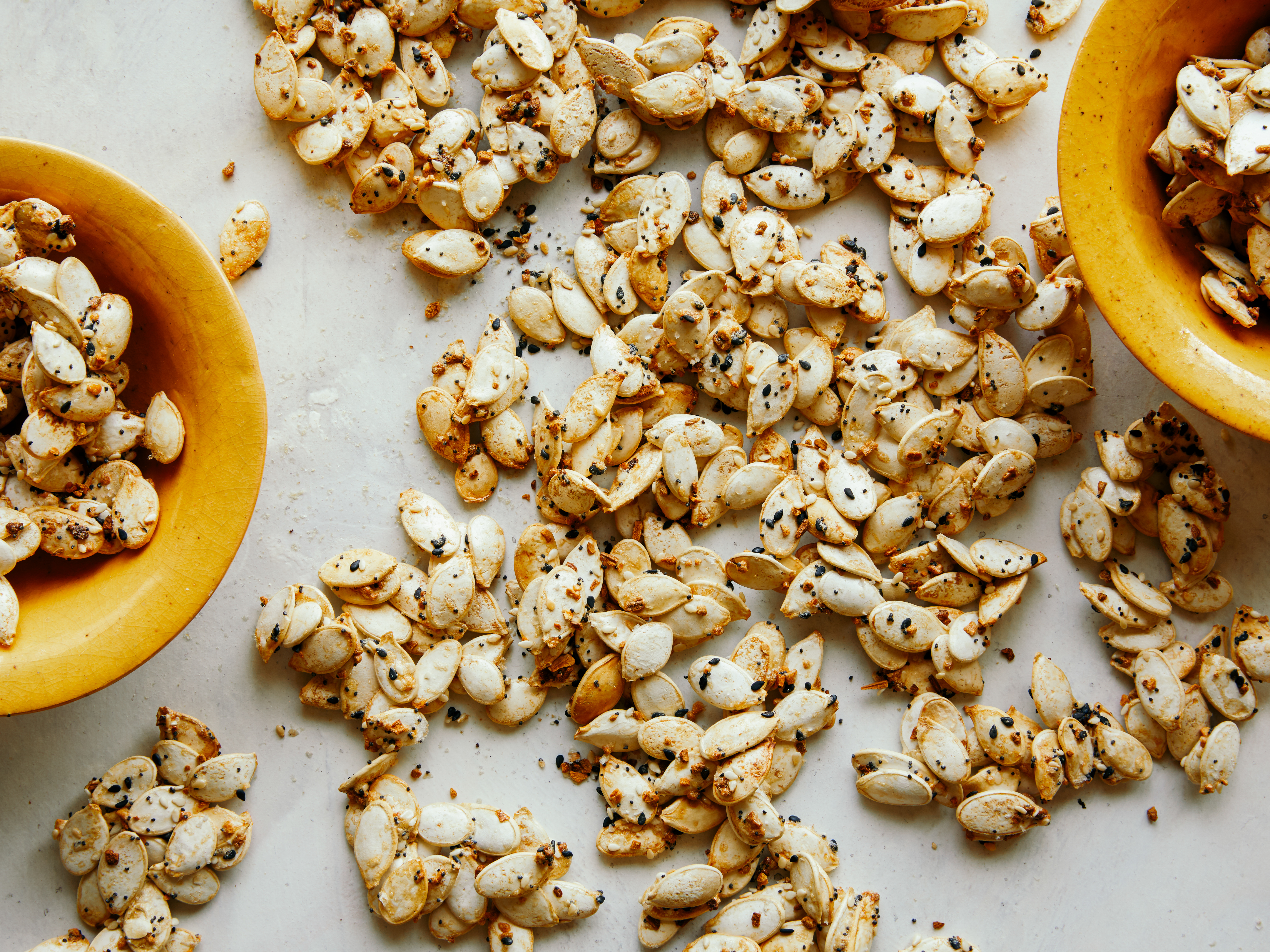 Preheat the oven to 300 degrees F. Coat a parchment-lined baking sheet with the olive oil.
Cut a 10-inch circle in the top of the pumpkin and remove the top. Scrape out the pulp and seeds with a large spoon and remove to a bowl. Separate the seeds from the stringy pulp, then rinse the seeds in a colander under cold water. Shake the seeds dry; don't blot them with paper towels–they will stick.  
Spread the seeds in a single layer on the prepared baking sheet and bake until beginning to dry out, about 30 minutes.  
Meanwhile, mix together the white and black sesame seeds, dried minced garlic, dried minced onion, poppy seeds and sea salt in a small bowl to combine.  
Whisk the egg white in a medium bowl until foamy. Add the baked pumpkin seeds and toss until fully coated. Add the everything seasoning mix to the bowl and continue to toss until the seeds are coated in the seasoning. Spread the seeds back on the original baking sheet and continue to bake until golden brown and crispy, about another 25 minutes. Cool before serving.
Source: Read Full Article