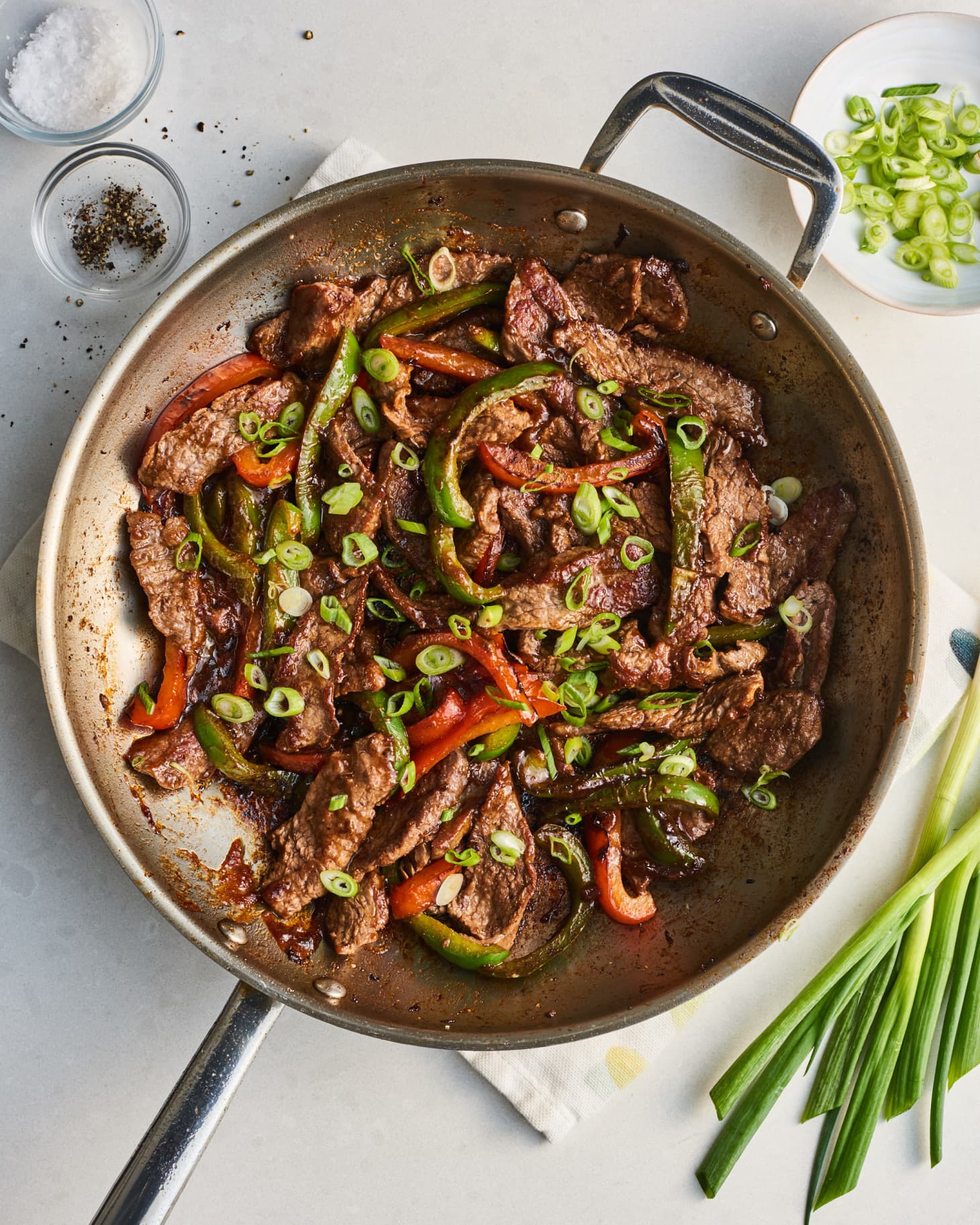 The next time you're tempted to skip the cooking and order takeout, give this pepper steak stir-fry a try instead. In just 20 minutes (faster than delivery!), you'll be sitting down to a restaurant-quality meal that's tastier and less expensive than any takeout you can order. Plus, we think you just might fall in love with the honey-soy glaze.
How to Get This Stir-Fry on the Table in Just 20 Minutes
These two prep and ingredient shortcuts ensure you're sitting down to dinner as soon as possible.
Meal Prep Moment
While you can make this entire meal from start to finish in 20 minutes, it's also a great candidate for meal prep. Whisk the sauce together and store in the refrigerator. (The cornstarch will settle to the bottom, so before you pour it into the skillet, whisk it back into suspension). The steak and bell peppers can also be sliced and refrigerated (separately) several days in advance.
Pepper Steak Stir-Fry
Ingredients
1

pound

flank steak (3/4-inch thick)

1/4

cup

low-sodium soy sauce

2

tablespoons

honey

1

tablespoon

cornstarch

1

tablespoon

rice vinegar

1

teaspoon

onion powder

1/4

teaspoon

garlic powder

1/4

teaspoon

ground ginger

1

tablespoon

vegetable oil

1/2

teaspoon

kosher salt

1/4

teaspoon

freshly ground black pepper

1

medium red bell pepper, sliced

1

medium green bell pepper, sliced

Cooked rice and sliced scallions, for serving
Instructions
Place the flank steak in the freezer while you prepare the sauce, about 5 minutes. Whisk the soy sauce, honey, cornstarch, vinegar, onion powder, garlic powder, and ground ginger together in a small bowl until no lumps remain; set aside. Remove the steak from the freezer. Cut the steak in half lengthwise, then slice across the grain into very thin (about 1/4-inch thick) slices.

Heat the oil in a large skillet over medium-high heat until shimmering. Season the beef with the salt and pepper. Add to the skillet, spread into an even layer, and cook undisturbed until the bottom sears, about 2 minutes. Toss and cook until the beef is cooked through, about 3 minutes more. Transfer the beef to a plate and set aside.

Add the bell peppers to the skillet and cook until tender and beginning to brown, about 3 minutes. Return the beef and any accumulated juices to the pan. Add the soy sauce mixture and cook until the sauce thickens, 1 to 2 minutes. Serve over cooked rice topped with the scallions.
Recipe Notes
Make ahead: The sauce can be mixed and steak and peppers sliced up to 5 days in advance. Refrigerate separately in airtight containers.
Storage: Leftovers can be refrigerated in an airtight container for up to 4 days.
Source: Read Full Article