Total:

30 min

Active:

30 min
Ingredients
Directions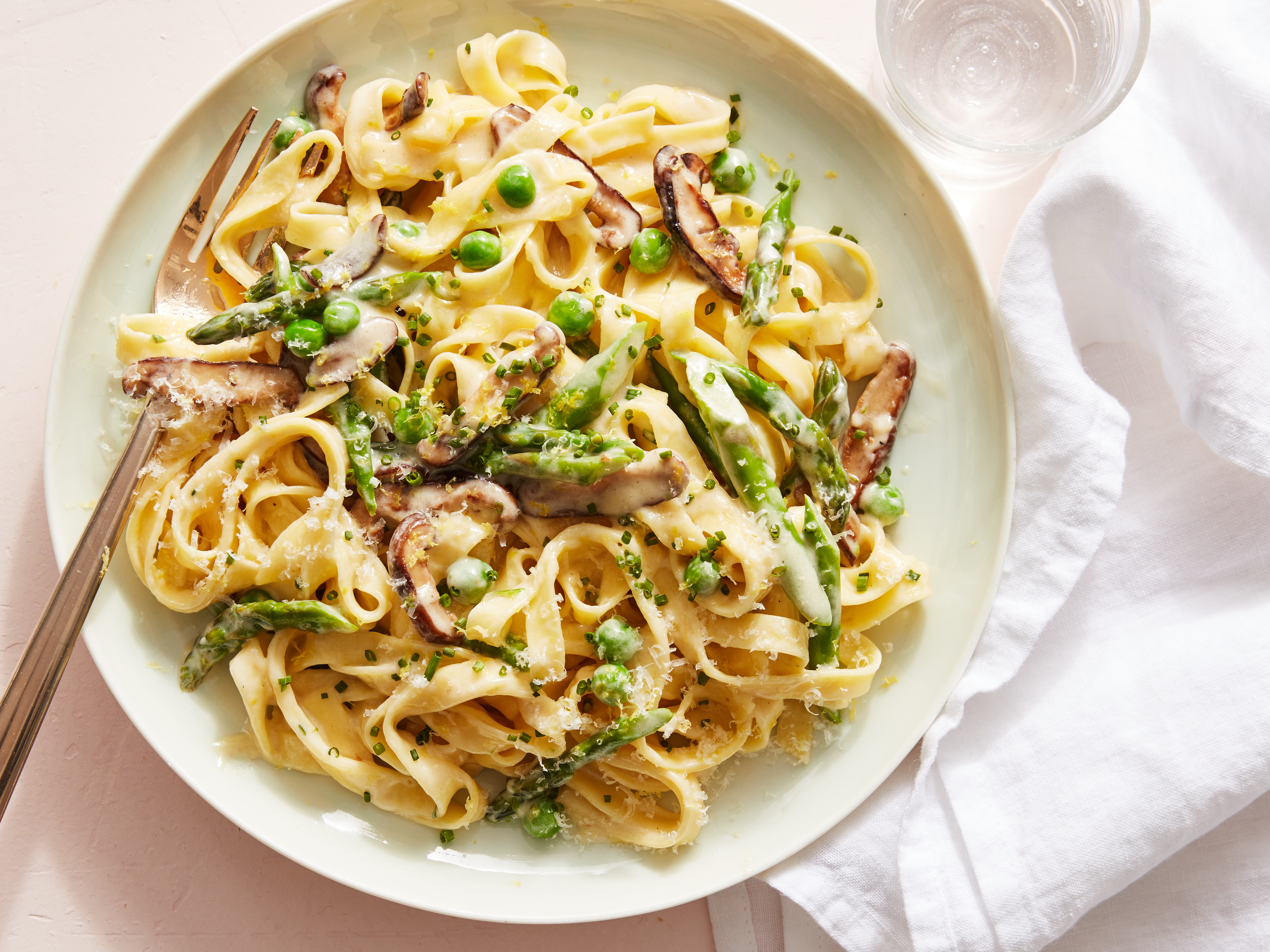 Bring a large pot of generously salted water to a boil. Add the pasta and cook according to package directions until al dente, tender but slightly firm. Reserve 1/2 cup of the pasta water, then strain the pasta and toss with a splash of oil in the colander.
Meanwhile, slice the mushroom caps into 1/4-inch-thick strips. Snap the woody ends off the asparagus and cut into 2-inch lengths. Heat a large skillet over medium heat, and add 2 tablespoons of the butter. When the butter melts, raise the heat to medium-high and add the mushrooms in 1 layer. Cook, without moving, until the undersides have browned, 1 to 2 minutes, then stir and cook until golden about 2 minutes more. Add the asparagus, another tablespoon of butter, and 1/2 teaspoon salt and continue to cook, stirring occasionally until the asparagus is tender and the mushrooms are browned, 2 to 4 minutes. Transfer the vegetables to the colander with the pasta. 
Reduce the heat to medium and add the remaining 5 tablespoons butter. When the butter has mostly melted, whisk in the cream and bring to a simmer, then add the peas and cook for 2 minutes. Turn off the heat. 
Whisk the Parmigiano-Reggiano into the sauce. Add the vegetables, cooked pasta, chives and lemon zest and toss well. Season with salt and pepper. The pasta will thicken as it cools. To thin it, add reserved pasta water 1 tablespoon at a time and toss to reach the desired consistency. Serve hot in heated bowls.
Cook's Note
Heavy whipping contains stabilizers to help it whip up and stay at the desired consistency. It will thicken your Alfredo sauce more than regular heavy cream will. You may adjust the consistency of your sauce by adding up to 1/2 cup reserved pasta cooking water.
Source: Read Full Article