Total:

2 hr 20 min

Active:

20 min
Ingredients
Directions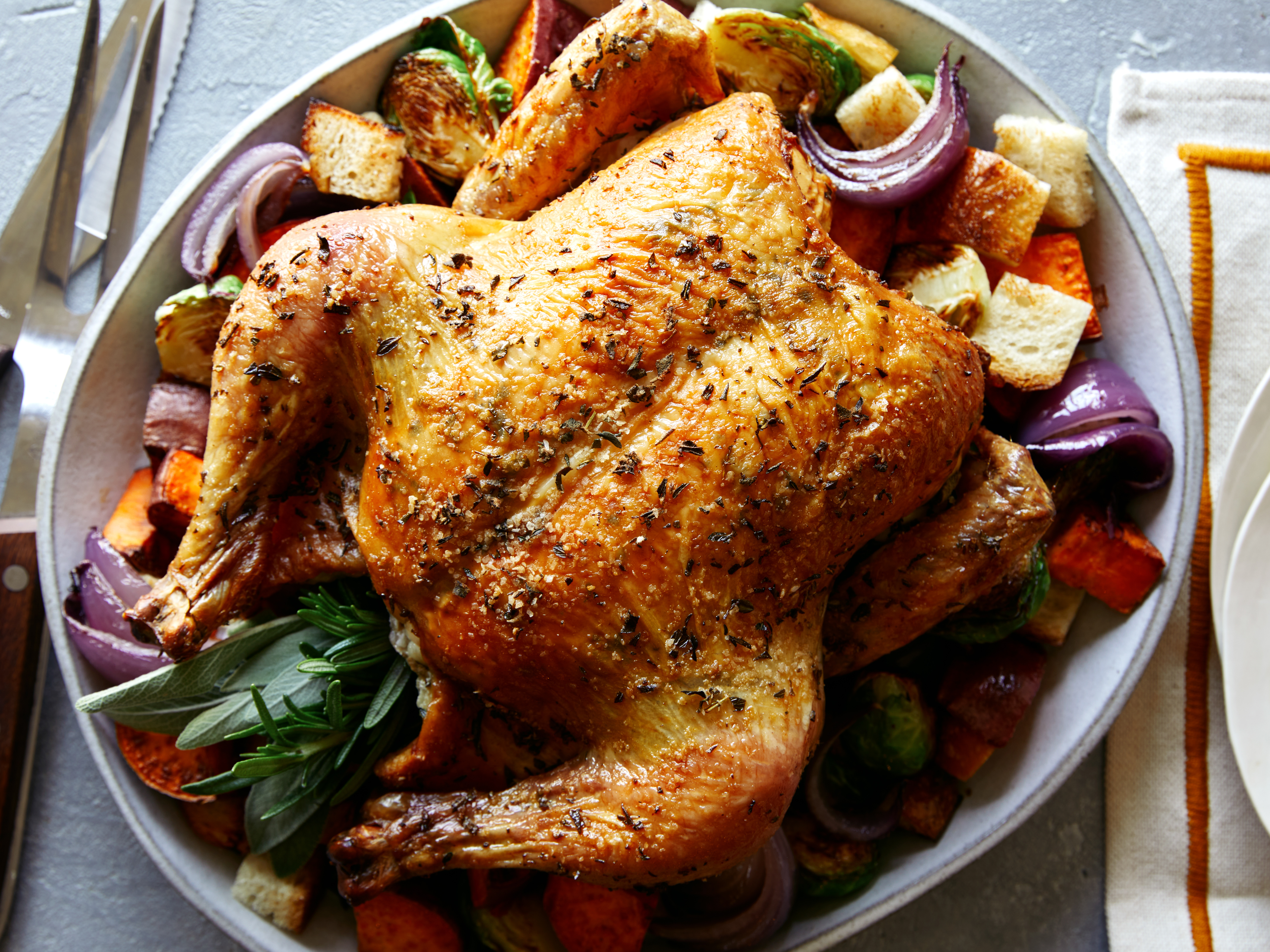 Rinse the chicken and pat very dry, inside and out. Combine the chopped rosemary, sage, thyme, 1 tablespoon salt, 1/2 teaspoon pepper and the nutmeg in a small bowl. Rub about two thirds of this salt mixture all over the chicken, inside and out. Stuff the herb sprigs inside the cavity. Set the chicken on a roasting rack to rest and dry at room temperature for 30 minutes.
Preheat the oven to 400 degrees F. 
Scatter the sweet potatoes, Brussels sprouts and onions in the bottom of a large roasting pan. Drizzle with 2 tablespoons of the melted butter and sprinkle with the remaining salt-herb mixture. Toss well. Set the chicken and roasting rack over the vegetables. Roast until the chicken begins to brown, about 40 minutes. 
Toss the bread cubes in a large bowl with 2 tablespoons melted butter and season with salt and pepper. Remove the roasting pan from the oven. Carefully remove the rack and chicken and set aside; toss the bread cubes into the pan with the vegetables. Put the chicken and rack back over the vegetables and brush the chicken with the remaining 2 tablespoons melted butter.  
Continue to roast until the chicken skin is crisp and golden and the internal temperature reads 165 degrees F on an instant read thermometer when inserted into the thickest part of the thigh not touching bone, about 40 minutes more.  
Remove the chicken to a cutting board to rest for 15 minutes. Increase the oven temperature to 425 degrees F. Toss the vegetables and bread and return to the oven until the vegetables are tender and caramelized and the bread cubes are golden brown and crisp, 5 to 10 minutes. 
Carve the chicken into serving pieces and pour any accumulated juice from the carving board over the roasted vegetables and bread. Toss the vegetables and bread again and serve.  
Source: Read Full Article