Total:

1 hr 35 min

Active:

40 min
Ingredients
Crust:
Filling:
Directions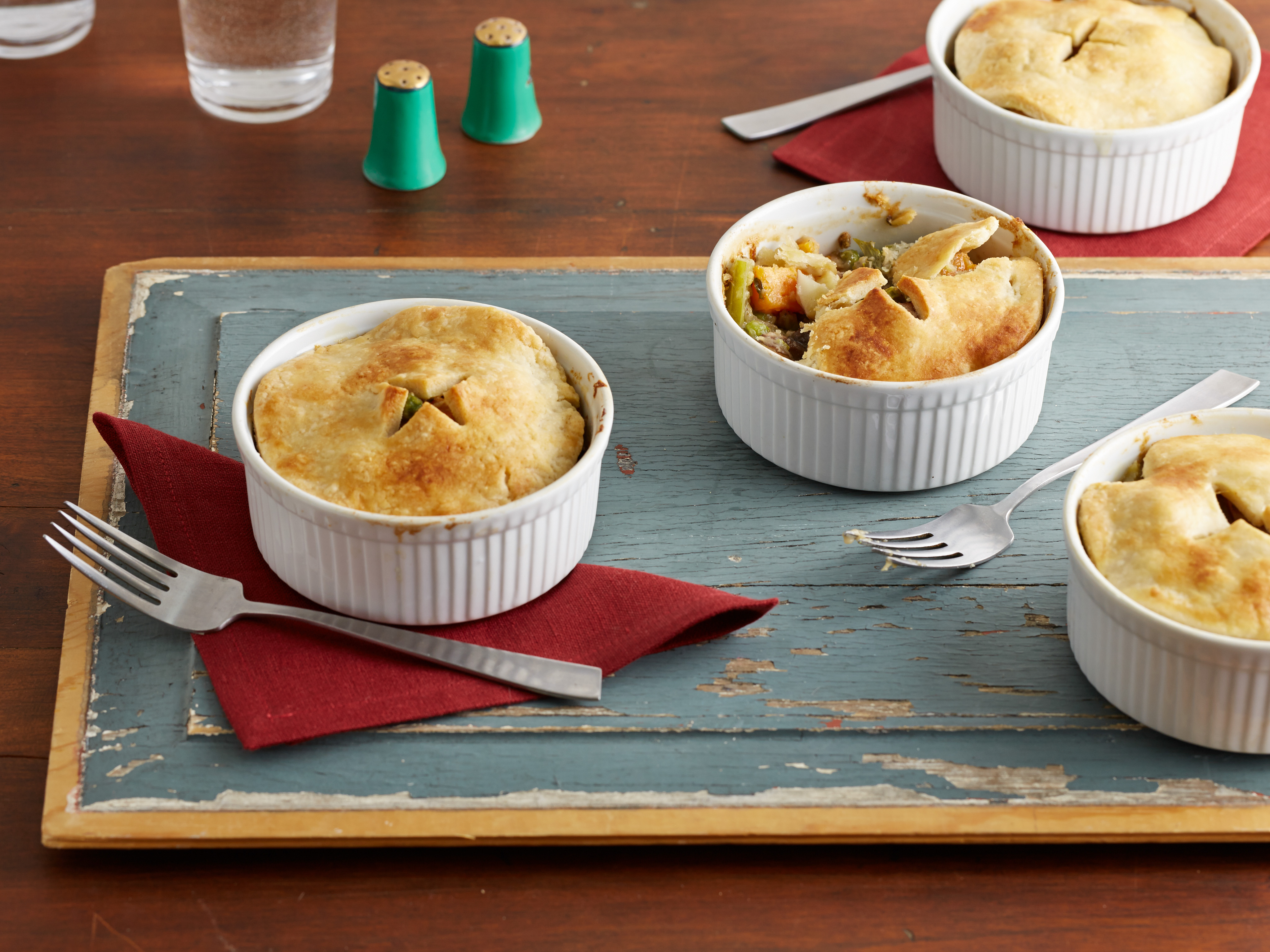 Special equipment:
For the crust: Combine the flour, cornmeal, and salt in a food processor and pulse to combine. Add the butter and pulse just until it resembles coarse crumbs.
In a small bowl, whisk together the egg yolk and 2 tablespoons ice water. With the processor running, drizzle in the yolk mixture. The dough should just come together. If it looks dry add more water, up to 4 tablespoons.
Turn the dough out onto a floured surface and knead until it comes together; it will be stiffer than a regular pie crust because of the cornmeal. Divide into four pieces, press into discs, and wrap in plastic wrap. Refrigerate for 30 minutes.
Preheat the oven to 400 degrees F.
For the filling: Toss the potatoes, yam, parsnips, celery and mushrooms with 4 tablespoons oil.
Season with salt and pepper and spread evenly on a baking sheet. Roast, tossing once halfway through, until golden brown, about 20 to 25 minutes. You don't want to cook these all the way though since they will cook more in the pot pie. (They should be al dente, but starting to get some color.)
Combine the flour and remaining 4 tablespoons oil in a saucepan over medium heat and cook until smooth and bubbly like pancake batter, about 3 minutes. Whisk in the mushroom broth. Simmer until thick enough to coat the back of a spoon. Season to taste and remove from the heat.
Add the roasted veggies to the mushroom broth along with the peas, thyme, rosemary and sherry vinegar. Divide the filling among four 8-ounce ramekins.
Remove the dough from the fridge and roll each into a 5-inch disc. Wet the rim each ramekin and lay a crust over the top. Poke each 5 or 6 times with a fork and place in the oven. Bake until the crust is golden brown, about 20 to 25 minutes.
Source: Read Full Article